Contents:
2020 Calendar | Wynn at Paris Photo 2019 | Other Exhibition Highlights
New Featured Image Commentary | New Publications | APAG West Seminar | Holiday Gifts
---
When Wynn died of cancer in 1975, I was 60 years old. Although I definitely was not a spring chicken, neither was I ready for the stew pot! I felt I had a lot of good years ahead of me and I needed to figure out what to do with the rest of my life. To everybody's surprise, I decided to try out photography for myself. ~ Edna Bullock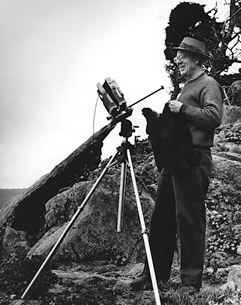 Wynn at Point Lobos
© mid-1950s Monterey County Herald
Throughout their 32 years of married life, Wynn was the photographer and Edna was the dancer, choreographer, and teacher of physical education and home economics.
A year after Wynn died Edna took up the camera and culminated life with her own very successful 20-year career as a creative photographer and beloved workshop leader.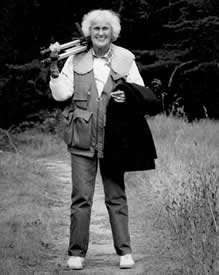 Edna at Point Lobos
© mid-1980s Richard Hannon
Although they never pursued photography concurrently, they were proudly supportive of each other's interests, talents, and skills during their shared lifetimes.
Now, we are wedding this joyfully married couple in a new way. With our joint Edna and Wynn calendar we are bringing their respective artworks together in a celebration of a family of fine art photographers. We're sure they would have been delighted with this pairing.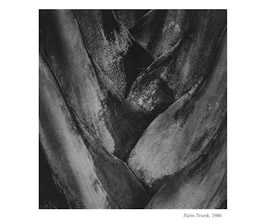 Edna's image for November
Palm Trunk, 1986
Selecting images for our calendars is a process I relish, and working with a fresh concept was especially exciting for me. My goals were twofold: first, to choose photographs that reflected Edna's and Wynn's distinct perspectives without duplicating previous calendar images; and second, to create pairings that complemented each other in an overall sequence that flowed harmoniously.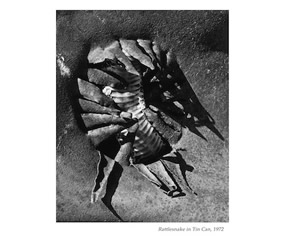 Wynn's image for December

Rattlesnake in Tin Can, 1972
The result is six of Edna's black-and-white images and six of Wynn's, alternating in an exhibition of photographs that may be enjoyed throughout the year in your own home.
Using improved equipment, inks, and technical expertise, Casey Printing, the firm with which we've worked for many years, has risen to this special occasion and made an exceptionally handsome product – in terms of print quality, perhaps our finest calendar to date.
For a complete description of our brand new 2020 calendars, and to place your orders, click here.
---
The gelatin silver print process still yields some of the most spectacular tonal ranges available in photography today. [Our featured] photographers represent a rare culmination, where masterful visual vocabulary meets unparalleled darkroom printmaking. ~ Peter Fetterman Gallery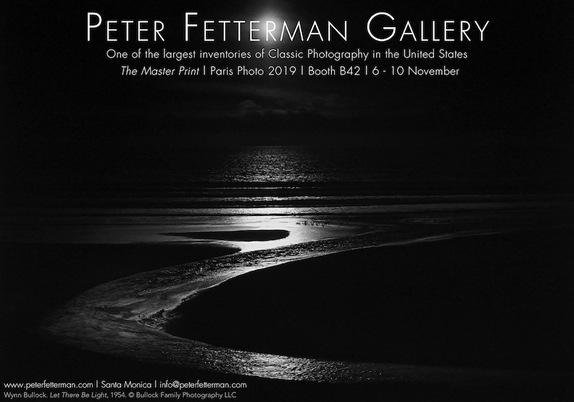 Ad for the Peter Fetterman Gallery featuring Wynn's Let There Be Light, 1954

From November 6-10, Wynn's work was showcased at Paris Photo 2019 in an exhibit mounted by the Peter Fetterman Gallery titled Le Maître Imprimer – "The Master Print". Viewing on the 6th was by invitation only and, for the rest of the week, the fair was open to the general public.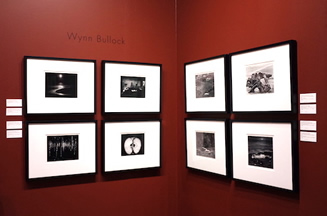 Display of 8 of Wynn's photos in the PFG booth
For his gallery's exhibit, Peter chose what he believes to be some of the most luminous and moving gelatin silver prints ever to be produced over the last 80-plus years. Along with more than 25 of Wynn's original photographs, other spotlighted works included prints by Ansel Adams, Paul Caponigro, Jeffrey Conley, Noell Oszald, Pentti Sammallahti, George Tice, Brett Weston, and Don Worth.
Never before has Wynn's imagery been featured so prominently at such a prestigious art fair – the largest international exposition dedicated to the photographic medium and one that is regarded by many as the most significant photography fair of the year.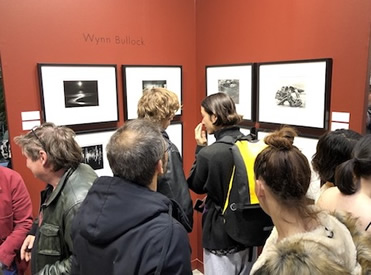 Visitors viewing Wynn's display
Held each November at the Grand Palais in Paris, the fair's mission is to promote and nurture photographic creation and the galleries, publishers, and artists who contribute to it. Bringing together up to 200 exhibitors from around the world, it offers visitors diverse, quality-driven presentations focusing on both historical and contemporary photographers and their art in print, published, performance, and programmatic formats.
This year's Paris Photo represented a milestone event for Bullock photography in another important way. It re-kindled appreciation of Wynn's artistry in the birthplace of his image-making.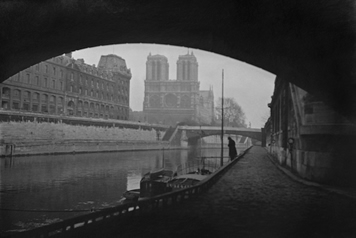 Wynn's
River Scene in Paris, c. 1929
It was while he was in Paris in the late 1920s pursuing his first career as a concert singer that Wynn connected with the visual arts in a deeply personal way. Inspired by the paintings and underlying ideologies of the Impressionists and post-Impressionists as well as the innovative work of Laszlo Moholy-Nagy and Man Ray, Wynn bought his first camera and began photographing. Paris Photo was a homecoming of sorts, a celebration of his mature imagery in the place where he took his first baby steps.
To read the full announcement of the Peter Fetterman Gallery's Master Print exhibit and to view all the photographs that were on display and available at the booth for visitors to enjoy, click here.
---
Thank you so much for sending the information on your father's famous photograph Child in Forest. It is one of the most iconic images we are including in the forthcoming exhibition of photographs from Bank of America's collection "Moment in Time." Having this information is absolutely invaluable and will be hugely useful when we are giving tours of the exhibition. ~ Anne Hodge, Curator of Prints and Drawings, National Gallery of Ireland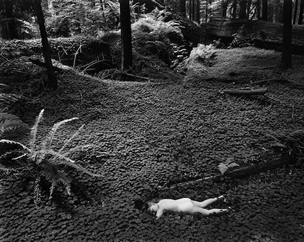 Wynn's
Child in Forest, 1951
Opening on November 30 and running through March 22, 2020 at the National Gallery of Ireland in Dublin, this traveling exhibition includes Wynn's iconic Child in Forest image. It is one of the photographs that will be highlighted in the audio guides created by the Gallery for enhanced viewing by visitors.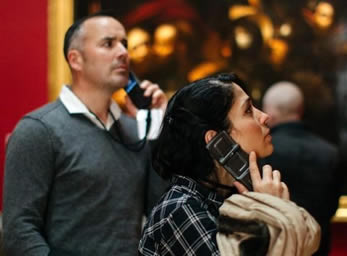 Visitors using audio guides,
Courtesy National Gallery of Ireland
Originally assembled in 1967 by Beaumont and Nancy Newhall at the bidding of Samuel Sax, president of the Exchange National Bank in Chicago, the set of selected photographs became the first corporate collection of photography in the United States. It emerged at a particular "moment in time" – the late 1960s – when the art world was redefining itself and its relationship to photography as a fine art. The collection represents an interesting view of the history of photography as seen through the eyes of the Newhall's from its early beginnings through the mid-20th century.
* * * * * * * * * * * * * * * * * * * * * * * *
Long view of the exhibit, © 2019 Gary Wilson
This is the third solo show of Bullock photography to be hosted by the SFO Museum at the San Francisco International Airport.
The first exhibition took place in the spring of 2015 and featured Wynn's black-and white images of California's coastal environs. Edna's flea market images were the subject of the second exhibition that was on display from June 13 through September 26, 2017.
The current exhibition showcases 12 large prints of Wynn's ground-breaking abstract color work. The exhibit opened on October 3 and will be on view through January 29, 2020 in a gallery dedicated to photography located in Terminal 3. Several friends flying in and out of the airport have already enjoyed it.
With all three shows, I have had the very happy experience of collaborating closely with Museum staff.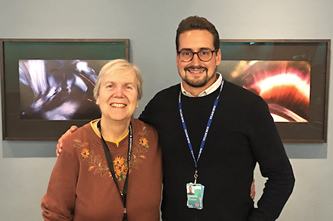 Barbara and Kai, © 2019 Gary Wilson
In the first instance, I worked with Ramekon O-Arwisters, and in the last two, I've served as co-curator with Kai Caemmerer who took the position of Photography Curator after Ramekon left the Museum to pursue his personal art.
For almost 40 years, the SFO Museum has been producing high quality exhibits for the enjoyment and enlightenment of its passengers and visitors.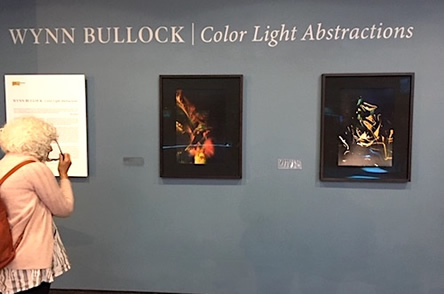 Friend visiting the show, © 2019 Carl Christensen
From its modest beginnings in 1980, the Museum has grown to more than 30 galleries throughout the airport terminals. In 1999, it became the first museum in an airport to receive accreditation from the American Alliance of Museums and is highly regarded as a model by museums operating in public arenas.
The quality and diversity of the SFO Museum's rotating schedule of art, history, science, and cultural exhibits is truly impressive. It is a first-class institution with excellent staff and programming, and I am delighted to have Bullock photography as part of its ongoing offerings.
---
With its thought-provoking simplicity, it's easy to see why Cactus, 1958 was one of the curators' favorite choices for the "Love" exhibit – and why it was also included in "The Sense of Abstraction" international exhibit at The Museum of Modern Art in New York in 1960. ~ Paul Cotter, guest commentator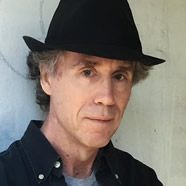 Paul Cotter
One of the joys of managing our Bullock photography estate is meeting wonderful people like photographer/writer Paul Cotter
My first contact with Paul was in October of 2014 when he placed an order through our website for the Wynn Bullock: Photographer DVD. At the time, I was in Atlanta participating in the second set of activities in conjunction with the High Museum of Art's fabulous retrospective of Wynn's work. I sent him an email explaining that there would be a delay in fulfilling his order. He sent a gracious reply and our correspondence took off from there.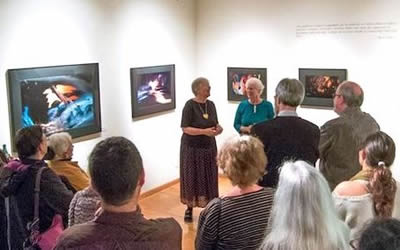 Barbara's and Lynne's presentation at UC Santa Cruz
A few weeks later we met in person when Paul attended a talk my sister Lynne and I gave in association with a show of our father's Color Light Abstractions at Cowell College on the UC Santa Cruz campus. I learned that Paul had been a long-standing fan of Wynn's work. The day after the presentation, he wrote:
"This experience has been so rewarding for me on so many levels. Since I first discovered Wynn's work in a bookstore years ago (Masters of Photography Aperture series), I've felt drawn to his work. As I've learned more about him as an artist, a father and a spiritual seeker, my appreciation has deepened."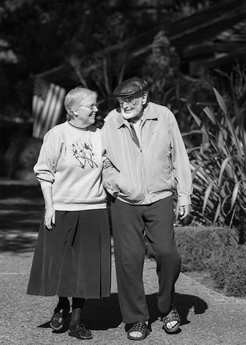 Barbara & Gene
© 2015 Paul Cotter
Over the past five years, the Cotter/Bullock-Wilson connections – both personal and collegial – have grown ever stronger and more expansive. When my husband Gene became ill with cancer, Paul and his wife Bonnie were steadfast supporters. I cherish the photograph that Paul took of us just a month before Gene died. Since Gene's passing, their warm, generous friendship has helped sustain me.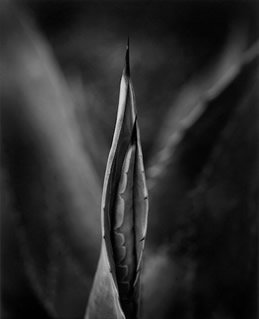 Wynn's
Cactus, 1958
More professionally, Paul has delved deeply into Wynn's work and has written engagingly about it on his photography blog site. You can read his Bullock entries here.
In 2017, I invited Paul to do a guest commentary for the Featured Image section of our website. He chose to write about The Pilings, 1958, and I found his commentary so insightful and appealing that I asked him to continue as a periodic guest commentator. To my delight, he accepted and he did another Featured Image for us last year – Nude behind Cobwebbed Window, 1955.
As a keen student of Wynn's work with a thoughtful, lively writing style, Paul has earned an appreciative following. His contribution for 2019 is Cactus, 1958, which you may read and/or listen to here. Be sure and check out the bonus material I added to accompany Paul's commentary. The popups provide an interesting glimpse into Wynn's creative process.
---
The Californian Monterey Peninsula is renowned for its foggy conditions. Bullock often used the misty wooded landscape around his home here as a subject to express humanity's relationship with nature. The broken tree has been likened by the artist's daughter to a crowned king – ancient and decrepit, yet still dignified – and the whole scene defined as a meditation on death and transformation. ~ Martin Barnes, Into the Woods: Trees in Photography
One of my tasks in managing Bullock Family Photography LLC is handling reproduction requests. From day to day, I never know when a new request may come in, and when it does, it's a little like receiving a love note from an admirer you didn't know you had. With permissions granted, three interesting books have recently been released that include Wynn's imagery.
The first is a publication by Laurent Jenny titled La brûlure de l'image: L'imaginaire esthétique à l'âge photographique or The burning of the image: The aesthetic imagination in the photographic age.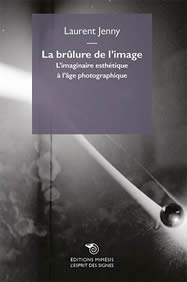 Cover of
La brûlure de l'image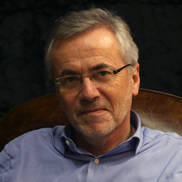 Laurent Jenny
This project involved the efforts of three international entities: a publishing house headquartered in Milan (Mimesis Edizioni) that was handling the copyright request; our LLC which owns the copyrights for Bullock imagery; and the author himself who lives and works in France.
In the process of working with the foreign rights manager at Mimesis, I learned that Laurent Jenny is an honorary professor of literature, aesthetics, and literary ideologies at the University of Geneva with several scholarly titles in his resume.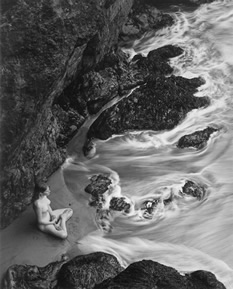 Wynn's
Girl on Beach, 1968
When I asked about his latest book, I was told that it was going to be an "investigation of the medium of photography as both a representation of reality and an expression of art."
It was further reported to me that Wynn's image of Girl on Beach, 1968 was slated to appear in a chapter about "photography and time" and that Professor Jenny intended to use the image to epitomize how a sense of duration can be expressed photographically or more specifically in a translation of his words "how the fluidity of the waves meets the long temporality of rocks, giving a feeling of duration ordinarily so difficult to express through the medium."
If only I were fluent in French, I would have very much enjoyed communicating with Professor Jenny directly! With time being such a key theme for Wynn, I'm sure he would have loved conversing with the professor as well.
* * * * * * * * * * * * * * * * * * * * * * * *
The second book recently released is Into the Woods: Trees in Photography by Martin Barnes.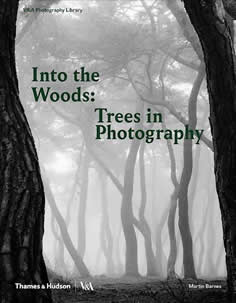 Cover of
Into the Woods
Published by Thames & Hudson Ltd. in London in association with the Victoria and Albert Museum, it presents a selection of images drawn entirely from the permanent collection of the V&A Museum in an exploration of how trees have been depicted as a subject from photography's invention until today.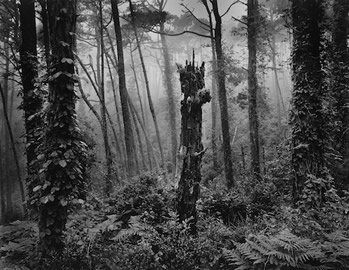 Wynn's
Del Monte Forest, 1969
The book follows an exhibition of the same title that was held at the Museum from November 18, 2017-April 22, 2018 to mark the 800th anniversary of the Charter of the Forest, sealed in 1217 by King Henry III, which set out the rights and responsibilities of the people of England in relation to the country's forests and woodlands and re-established their access to areas that had been taken over as royal hunting grounds.
Wynn's Del Monte Forest, 1969 is the image chosen for inclusion in the book and it is accompanied by the brief commentary quoted at the beginning of this section.
Into the Woods is part of the V&A Photography Library, a series of volumes designed to explore the diverse art of photography through the expansive archives of the Museum.
* * * * * * * * * * * * * * * * * * * * * * * *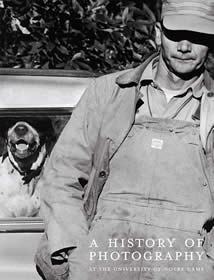 Cover of
A History of Photography
at the Univ. of Notre Dame
The third book to showcase Wynn's work is A History of Photography at the University of Notre Dame: Twentieth Century. Published by D. Giles Ltd. in association with the University's Snite Museum of Art, it is the first of a two-volume set conceived to make the public aware of the rich photography holdings of the Museum. It is also intended to serve as a guide for teaching the history of photography at the University.
Authored by David Acton, The Snite Museum's Milly and Fritz Kaeser Curator of Photographs, the first volume consists of 100 images, each with a full-page reproduction, accompanied by an essay about the photograph and its creator. The second volume will follow the same design for 100 nineteenth-century images from the Museum's collections.
The backstory for this project is an interesting one that includes one delightful discovery and a few regrettable ones.
I was first approached with the reproduction request by someone who had been given the responsibility of seeking copyright permissions as an extracurricular task in addition to his primary and unrelated job. Out-sourcing this activity is fairly common as it can often be a long and complicated process to contact copyright holders and actually get any sort of response from them, let alone the desired one.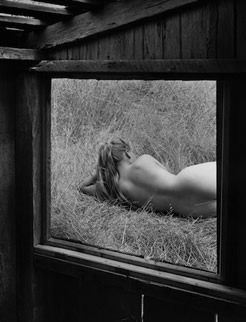 Wynn's primary image of

Barbara through Window, 1956
In this instance, a very general request came to me in early May. It took me almost three weeks to respond and then it took another three weeks to get a more detailed request in return. I replied in mid-July with a whole list of questions and then heard nothing more until I received an email in mid-October from David Acton himself who profusely apologized for the obvious slip-up. He announced that the book had already been printed and would start being distributed in November.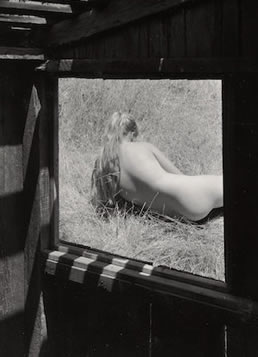 Variant of
Barbara through Window, 1956
at The Snite Museum
Attached to David's email was a copy of the entry for Wynn and a listing of all the other photographs the Museum has of Wynn's work. David attached the entry with "trepidation" that it might contain factual errors and assured me that they would work with me to make any needed corrections if and when they reprinted the volume.
Although the spirit and general information in the essay is reasonably accurate, the sequence of events and ideas is sometimes misleading. Probably the most serious error involves the identification of the image – but that is also the one delightful discovery in this story. It turns out that the print they have at the Museum is a distinct variation of Wynn's well-known image of Barbara through Window, 1956.
Even though I am the Barbara in the image and have long known that my father usually made several exposures in any given working session, I also know that he almost always chose what he thought was the best version to print, publish, and exhibit. This is the very practice that I've illustrated in the popups for Paul Cotter's Featured Image commentary of Cactus, 1958.
In the case of Barbara through Window, I was totally unaware that a variation of the much more familiar image was ever printed. Thanks to David, I now have a high-resolution scan of the variant that has been added to our image archive. I also have gained a new connection with someone who has long loved Wynn's work and with whom I can work happily in the future.
* * * * * * * * * * * * * * * * * * * * * * * *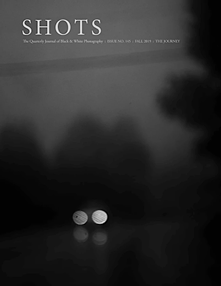 Cover of
The Journey
issue
of
SHOTS Magazine
The fourth and final publication I'd like to highlight is SHOTS Magazine – The Quarterly Journal of Black & White Photography. Based in St. Paul, Minnesota, SHOTS is an independent, reader-supported periodical of eclectic fine art photography that is in its 37th year of operation.
Each issue has a theme and photographers around the world submit images that relate to that theme. Image selections are completely democratic. You don't have to be a well-known name to be accepted and published, nor do they care about particular kinds of equipment or formats. What they do care about is "vision, quality, depth, meaning…magic". Although they love color photography, they believe that black-and-white imagery is a powerful medium which deserves its own platform.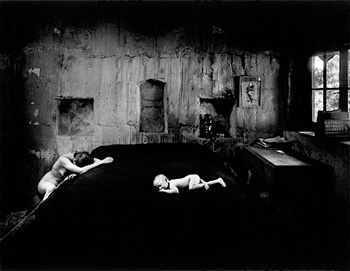 Wynn's
Navigation without Numbers, 1957
"The Journey" is the theme for the current Fall issue (No. 145). A couple of months ago, owner and publisher Douglas Beasley contacted me for permission to reproduce Wynn's Navigation without Numbers, 1957 for the publication's "Artist Spotlight". As he described it, it is a regular feature that showcases a photo that has had a huge positive influence for him.
Here is what Doug wrote to accompany Wynn's image:
"This exquisite image entered my psyche while still in art school in Ann Arbor. I guess it has never left, since each time I encounter it anew it still takes my breath away. My eyes swim in the inky black of the bed as though I was staring at a starless night sky. Even the title, "Navigation without Numbers," takes me on a journey to territory familiar yet unknown. Asking more questions than it answers, I think this is one of the finest photos I have ever encountered."
---
Meeting you was a highlight for me at the APAG West Seminar this past weekend. I was deeply touched by the way you presented your Dad's work…. I will never forget the opening of the book, the discovery of its weight both actual and symbolic, the "unveiling" of each platinum print, one by one…. You slowed time in a way that made me look more deeply into what I was seeing…. Both you and your Dad reignited my love of photography yesterday, something I felt I'd lost during these last few years of tumultuous change in my own life. ~ Lucy Hilmer, seminar participant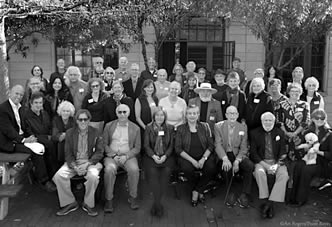 Inaugural APAG West Seminar, October 2018
© 2019 Art Rogers
APAG West is an affiliate of the American Photography Archives Group, a non-profit resource organization dedicated to advancing the legacies of American photographers. Members include people who have inherited photography collections, representatives of foundations created to administer archives, and living photographers who want to organize their archives and plan for their future dispositions.
Each year, APAG West sponsors at least one major day-long seminar as well as a number of other special events, such as trips to institutions that hold photography archives and presentations by professionals in the field of archive management.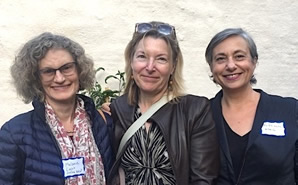 My program committee colleagues
Melanie Light, Linda Zimmerman, Alla Efimova
This year APAG West's major seminar was graciously hosted by Ann Jastrab and the Center for Photographic Art in Carmel and included a bonus day of special activities. I was part of the program committee for the weekend event, along with Alla Efimova (chair of APAG West), Melanie Light (fine arts appraiser and consultant), Linda Zimmerman (manager of her father John Zimmerman's photography estate), and Neder Gatmon-Segel (curatorial associate for APAG West).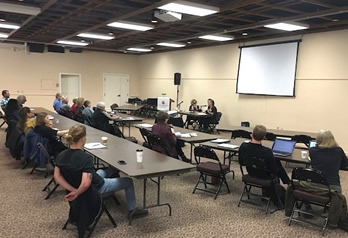 First Panel
The day-long seminar on Saturday, October 12, consisted of three informative panels. The morning panel addressed the topic of "Latest Trends in Museum and Archive Acquisitions". Teresa Mora, head of Special Collections and Archives at UC Santa Cruz, gave an excellent presentation using her own institution's practices as a model. Alla Efimova served as the second panelist, sharing her experiences as the head of KunstWorks, a consulting firm that helps artists with archive planning, management, and placement. Melanie Light was the moderator for this initial presentation.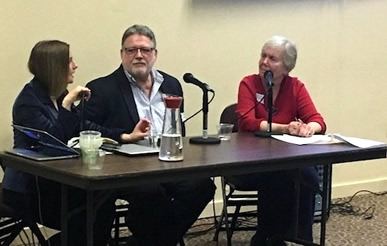 Third Panel, with Jennifer Stoots and Richard Gadd
The topic for Saturday afternoon's first offering was "Digital Archiving Practices". A very detailed PowerPoint presentation was given by Beatrice Thornton who works at Apple Computers as an archivist, historian and digital asset manager. Alla moderated the Q & A part of this session.
"Photo Markets Now" was the last panel of the day which I had the pleasure of moderating with featured speakers Jennifer Stoots, a certified photography/art appraiser and art market consultant and Richard Gadd, the director of the Weston Gallery in Carmel. Jennifer began the session with a richly illustrated presentation that framed the realities of today's photo markets in the context of their history and development. This was followed by a lively discussion with Jennifer and Richard who responded to a series of questions prepared by me around the real-life issues facing photographers and their heirs as they navigate the marketplace, organize archives, and plan for the future.
Sharing the Relativity Exhibition Set
© Mark John
The day ended with a reception in CPA's gallery where participants were able to view the 8 x10 Fundraising Exhibition and take their chances on winning one of the wonderful donated artworks on display.
Sunday, October 13, was a bonus day open to all seminar participants – presenters, moderators, attendees, and APAG West planning committee members alike. In the morning, a very attentive and appreciative group joined me in the CPA Gallery for a viewing of my artist's copy of the extremely rare and beautiful handcrafted book Relativity: Wynn Bullock and Albert Einstein published by 21st Editions, The Art of the Book. In addition to relating how the book was produced from initial conception to final execution, I also set out a display of the exhibition set of 18 individual prints that duplicated the platinum reproductions in the publication and shared personal anecdotes for each of the images.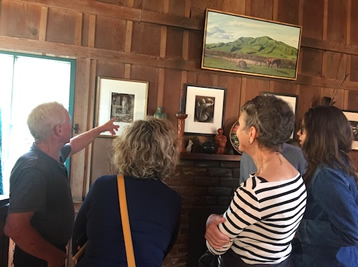 Kim Weston with group at Wildcat Hill
The weekend activities concluded with a very special tour of Wildcat Hill, the former home and darkroom of Edward Weston and the current home of Edward's grandson Kim Weston, his wife Gina, and their son Zach. Both Kim and Zach are carrying on the family tradition of fine art photography, and tour participants enjoyed learning about their artwork as well as Edward's illustrious legacy.
Also spotlighted on the tour were the family's educational and philanthropic activities through the Weston Collective which promotes the art of photography in public and private schools around the Monterey Bay area.
---
Just got the chance to see the wonderful Two Photographers: Wynn Bullock and Imogen Cunningham film. It's very well made and I really liked the follow-up feature. Having the perspective of people who actually interacted with the photographers adds to the magic! I think it's a treasure. ~ Nadir Mauge, filmmaker and photographer, Bethlehem, Palestine
| | | | |
| --- | --- | --- | --- |
| The Enchanted Landscape | Two Photographers DVD | Let There Be Light poster | Child on Forest Road notecard |
In addition to our gorgeous new 2020 calendars, I want to remind you that we have many other items at our Online Store that would make wonderful holiday gifts – several books, two DVDs, three vintage posters, and three different sets of notecards.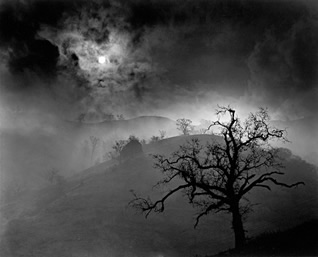 Wynn's
Stark Tree, 1956
If you want to give yourself or a loved one an extra special gift, consider ordering one of our limited edition, fine art estate prints. Custom-made prints of any of Wynn's and Edna's images are available in three different sizes. The quality of our printing is outstanding and all our estate prints are accompanied by signed Letters of Authentication. Our prints are mounted and over-matted on archival boards. Identification labels signed and dated by me are affixed to the backs of the mounts and duplicate labels are provided to put on the artworks after they are framed.
Edna's
David at Oceano, 1983
Beyond that, if you've been longing to own one of Wynn's or Edna's original, signed photographs, that's possible as well. We have a number of photographs with impeccable provenance and exceptional quality available for purchase from our family collections.
For all inquiries about our estate print and original photograph programs, please contact me directly at info@wynnbullockphotography.com.
In the spirit of holiday giving, we are offering a 25% discount on all estate print and photograph orders placed between now and the end of the year.
---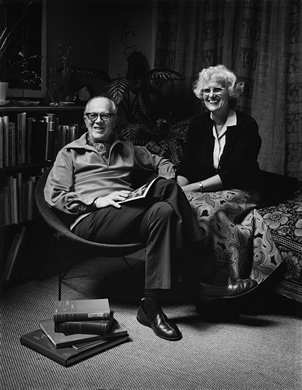 Wynn and Edna in Home Studio
© 1974 Jim Hill
In closing, my sister and I want to thank each of you for your continuing interest in our parents' legacies.
Living in our increasingly turbulent and challenged world, we find an endless wellspring of inspiration and sustenance in their creative journeys, and it brings us great joy to share them with you.
Wishing you a holiday season filled with love, peace, and beauty –

Barbara Bullock-Wilson, Managing Member
Lynne Harrington-Bullock, Member
Bullock Family Photography LLC

---
Copyright © 2019 Bullock Family Photography LLC Unless Otherwise Noted. All Rights Reserved.
Website and Newsletter design and management by David Gordon