Contents:
Laurence Miller Gallery and Wynn Bullock - Naturally
The Power of Photography Series at the Peter Fetterman Gallery
Working with a New Multi-Media Company
---
Would love to collaborate with you on a Wynn Bullock online, one-person show…. We reach a cultivated international audience. Wynn's work would be magical after a year of COVID.
~ Larry Miller, email dated March 26, 2021
Years ago, The BBC produced a lovely comedy series called "As Time Goes By". The storyline was about serendipity and second chances, the kind of forces that have brought Larry Miller and Bullock photography together again.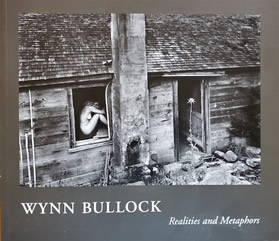 Wynn Bullock-Realities and Metaphors
Catalog
Back in the early 2000s, when Archival Consulting and Management Services was helping our estate organize, promote, and market Wynn's artwork, they arranged a representative relationship with Larry's gallery in New York City. The Gallery hosted a beautiful solo show in 2001 and published a handsome catalog to accompany it. Titled Wynn Bullock: Realities and Metaphors, the book included an insightful essay by Keith Davis, the then curator of the Hallmark Photography Collection. The following year, LMG organized a smaller solo exhibition that focused on Wynn's nudes.
Due to changing circumstances and priorities, our five-year management agreement with ACMS ended in 2005, including the relationship ACMS had established with Larry Miller. Many years elapsed, then in January of 2020, Larry and I ran into each other at a conference hosted by the Center for Creative Photography in Tucson. Although we had never had much direct contact during the ACMS years, our meeting was a happy surprise for each of us and we agreed how nice it would be to do something together again.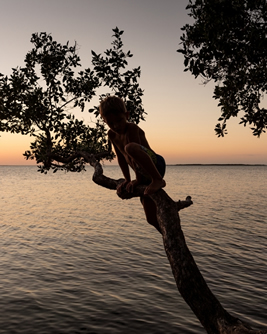 High Tide, Key Largo
© 2016 Anastasia
Samoylova (from Contemplation show)
Shortly after the conference, the world was upended by the COVID pandemic and in August Larry transitioned from a brick-and-mortar gallery to a global online presence serving artists, collectors, curators, writers, and others passionate about the visual arts. Even though we didn't follow up with each other in the midst of all this turmoil, our meeting in early 2020 had nonetheless created a spark. Interest in Bullock photography was rekindled in Larry's mind and I was inspired to subscribe to his email list.
In March of this year, Larry posted an online exhibition entitled Contemplation. I was moved by the images and wrote him a one-line email expressing how much I had enjoyed it. Larry responded a few hours later with the message quoted at the beginning of this article. With that brief exchange, the flood gates of second chances burst open.
Between March 26 and April 22, Larry and I forged a whole new collaborative relationship, along with Larry's associate director Jacob Cartwright and Larry's wife and business partner Lorraine Koziatek. Each of them has been a delight to work with, and, in less than a month, we created a beautiful virtual exhibition and added the Bullock Family Photography Estate to the roster of artists and legacies the Gallery represents.
| | | |
| --- | --- | --- |
| Wynn's The Mast, Cannery Row, 1968 | Wynn's Rock, 1971 | Wynn's Lynne, Point Lobos, 1956 |
On display through June, Wynn Bullock – Naturally features 12 stunning images that are all available as original, signed works with impeccable provenance. The exhibit has received wonderful international attention, including an announcement sent by The Eye of Photography Magazine (L'Oeil de la Photographie) to all its subscribers; a review written by Demetra Nikolakokis for Musée Magazine; and a feature article in The Guardian entitled "California Dreams: The Natural Wonders of Wynn Bullock – In Pictures".
| | | |
| --- | --- | --- |
| | Wynn's Woman and Dog in Forest, 1953 | |
Second chances can offer wondrous opportunities and our second chance with Larry Miller and his team is a shining example. Our renewed relationship has already led to a cornucopia of blessings, and we are all looking forward to a long and fruitful future together.
---
No one appreciated nature and its restorative powers more so than Wynn Bullock. When I look at one of his lyrical images, I feel I am standing next to him and he helps me see and feel what he is experiencing. He is a poet of light. ~ Peter Fetterman, Power of Photography #333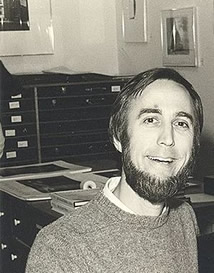 Tom Halsted in the early days of his
Gallery, Courtesy W. Halsted Gallery
The Peter Fetterman Gallery in Santa Monica, CA, has been representing our family photography estate for the last two years. Echoing the Laurence Miller story, we first became acquainted with Peter during the time we were working with Archival Consulting and Management Services. Although Peter was an avid fan of Wynn's imagery and very interested in representing his legacy, ACMS chose to pass on his offer and focus instead on expanding Wynn's presence on the east coast.
Again, many years passed with no connection until I received an out-of-the-blue email from Peter through our website in late 2018. What precipitated this second chance was the passing of Tom Halsted, a gallerist who had represented both Edna's and Wynn's work for decades. As a friend and fellow gallerist, Peter knew of our affection for Tom and reached out to me. This communication was followed by a visit in early 2019 and things blossomed from there.
Sebastião Salgado,
Elephant (Against Light), Kafue
National Park, Zambia
© 2010 Amazonas Images
When the COVID pandemic shuttered galleries in the spring of 2020, Peter developed a new online series he called The Power of Photography. It was his way of continuing to share meaningful work as well as promote more hope, peace, and love in the world.
Almost every day for the past 14 months, Peter has highlighted a favorite image created by one of the artists he represents. It is accompanied by Peter's personal commentary, along with a revealing quote that he has selected from either the writings of the featured artist or another knowledgeable source.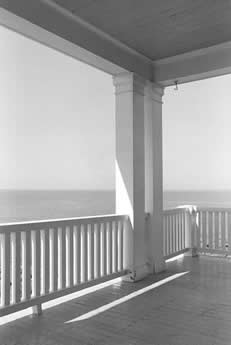 Porch, Monhegan Island, Maine
© 1971 George Tice
Most recently, he has expanded the format to periodically include a special weekly series he calls "The Essentials" where he devotes a week to exploring a selected artist's imagery. He began his weekly series in late May with a daily sampling of Elliott Erwitt's work. George Tice was the second photographer he chose for this weekly series, and Michael Kenna was the fourth. Peter's latest featured artist has been Paul Caponigro.
At this point, Peter's original series includes over 400 entries, nine of which are images of Wynn's. I have found both Peter's selection of quotes and his reflections very insightful, not only for Wynn's photographs, but for the works of every artist he features. His posts, both stand alone and weekly, have become an eagerly awaited source of learning and inspiration. Peter is currently working on a compilation of selected posts which will be published in book form by ACC Art Editions within the year. It will include at least one of Wynn's images and, when the time comes, I will share an announcement of its release on our Wynn Bullock Facebook Fan Page.
In the meantime, here are reformatted versions of all nine of Wynn's postings for you to enjoy.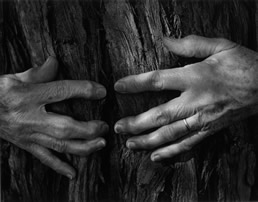 Power of Photography #3
Woman's Hands, 1956
Wynn Bullock, to my mind, is one the greatest 20th Century photographers. Often eclipsed by his more well known contemporaries, Edward Weston and Ansel Adams.
This is a haunting portrait of his mother's hands taken in his modest house in Carmel in 1956. The beauty of the print just knocks me out and is the definition of the word "primal".
[Note: The hands actually belonged to Wynn's mother-in-law Gertrude Chase and the image was taken in the Bullocks' front yard in Monterey.]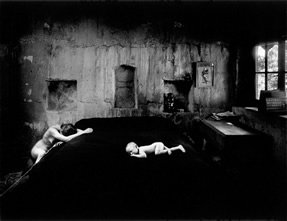 Power of Photography #306
Navigation without Nnumbers, 1957
This is one of the most primal and beautiful images in the history of photography. I have always held it in the highest regard since I first saw it so many years ago. It poses all the big questions in life without explicitly answering them which gives it its haunting mystery. It was shot in the heart of Big Sur county. Its title only adds to its strength. When Wynn entered the room where he was to take the image, he saw out of the corner of his eye a book propped up on a wide window ledge. It must have stimulated some profound thoughts as well as giving him the most perfect title. He was also such a master in the darkroom. The physical print is just staggering in its perfection and mood.
All of us have to navigate life issues in all its myriad challenges everyday, even more so now right?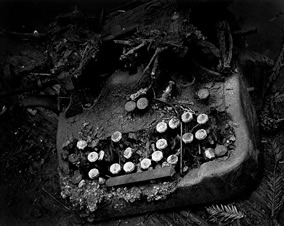 Power of Photography #312
Old Typewriter, 1951
Long before computers there used to be something called a typewriter. They were fairly heavy and used to clunk a way a lot. Kinda noisy. People used to put pieces of paper in them, type away for bit, take the paper out then put the paper in an envelope, stick a stamp on the envelope and then walk some and mail the letter and wait for sometimes days or even weeks for a returned typed letter back.
Wynn Bullock captured this image 70 years ago. It's more than just an image of a rusting machine. It's about the passing of time and decay embedded In nature. But for this viewer the underlying meaning is that nature will survive and live on longer than anything man can create and thus is a much more powerful force and we should be humbled before it.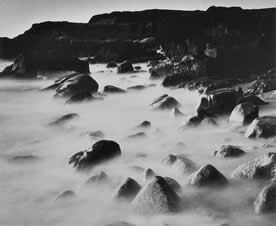 Power of Photography #329
Pacific Grove Coastal Waters, 1968
Northern California was the perfect place for Wynn Bullock to live and work. The climate there certainly brought out the best in him. He was deeply connected to that location as was many of his esteemed contemporaries and friends such as Edward Weston and Ansel Adams and Brett Weston. There he realized that there was much more to the world than just meets the eye and his life and work was dedicated to showing us this. This is best exemplified by this image, a mystical exploration of time passing and changing in front of our eyes.
Power of Photography #333
The Shore, 1966
"Light is the source of everything. It is what makes things visible to the eye. It is also what holds a rock together. My thinking has been deeply affected by the belief that all things are some form of radiant energy. Light is perhaps the most profound truth in the universe." ~ Wynn Bullock
I find myself being drawn more and more to nature these days. It is so important to tune out all the noise we are constantly subjected to, literally and figuratively, both for our physical and mental health. No one appreciated nature and its restorative powers more so than Wynn Bullock. When I look at one of his lyrical images I feel I am standing next to him and he helps me see and feel what he is experiencing. He is a poet of light.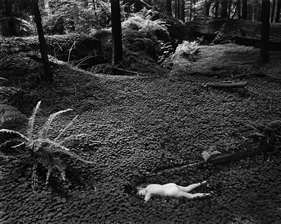 Power of Photography #342
Child in Forest, 1951
"It was an ancient virginal forest. Barbara was a young virginal child. I knew immediately the qualities of her body would both contrast and harmonize beautifully with the qualities of the dead logs and living plants of the forest. The cyclic character of natural forces would be clearly evident. The light was just right and the relationships between events were strong and exciting. All I had to do was set up and take the photograph." ~ Wynn Bullock
I think Wynn is being perhaps being a little too modest here. I think to create an image of such beauty and power you would have had to devote a lifetime of dedication and experience to the task at hand. It is so far removed from just a simple act.
It was one of the stand out and most popular images in Edward Steichen's 1955's celebrated "Family of Man Exhibition" which later toured the world to enormous acclaim. This is an image one can stare at for hours and meditate on it's various layers of meaning. But the one thing everyone can agree on is its luminosity as a print.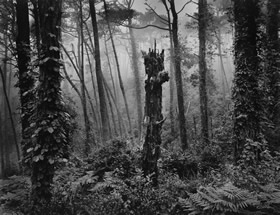 Power of Photography #356
Del Monte Forest, 1969
"How can you expand unless you search beyond what you are at the moment? To me searching is everything. I speak not as an artist, a physicist, or a churchgoer, but as a human being seeking meaning. If a person stops searching, he stops living. Everything is a miracle including ourselves." ~ Wynn Bullock
I think one of life's great pleasures is to be completely lost in a forest. The silence, the smells, the air, just the closeness to the trees and being able to literally hug them releases so many thoughts.
This Del Monte Forest image to me has always been Shakespearian, I visualize the central tree as King Lear, a man who has lived many lives, knows he is old and failing, somewhat lost and alone and still trying to make meaning of all that he has seen and lived through.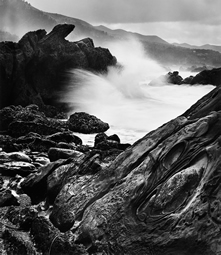 Power of Photography #363
Point Lobos Wave, 1958
"Whenever I find myself stuck in the ways I relate to things, I return to nature. It is my principal teacher, and I try to open my whole being to what it has to say."
~ Wynn Bullock
Point Lobos is one of the most amazing locations along the Central Coast. It has seduced many a great photographer over the decades. It has a certain magic and has inspired anyone who visits it.
Whenever I need an extra dose of inspiration I try to visit and I feel the presence of many of my favorite photographers - Edward Weston, Brett Weston, Ansel Adams and of course Wynn Bullock whose beautiful rendition is one of the best ever taken there.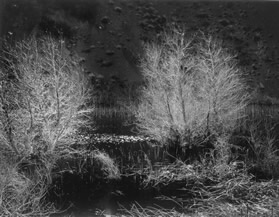 Power of Photography #369
Swamp Trees, 1955
"In my search to find an opposite to reality, I discovered that if reality is the knowable and the potentially knowable, the opposite consists of things that the mind can't comprehend. Among those things are keys to the existence of everything. The further we delve into what we are and what things are, the more mysterious we and they become."
~ Wynn Bullock
When one looks at a Wynn Bullock photograph carefully and his photos invite quite contemplation unlike almost anyone else in the history of photography one cannot but be amazed by the sheer technical mastery he possessed.
The other qualities are the depth of perception and the creation of such quiet beauty. His prints are beyond transcendent and so quiet and haunting. One is literally awestruck as I have been since I first encountered them. They are haunting and like a favorite piece of music one returns again and again to discover additional meaning and pleasure.
---
"Our sense of self-worth, who we are, impact our everyday decisions and all our actions. We aim to inspire, motivate, and challenge our audience to take a candid look at their own lives through stories of both success and failure…stories that will serve as pathfinders to all who are searching for answers to the question "What am I made of?" ~ Excerpted from WAIMO's Mission Statement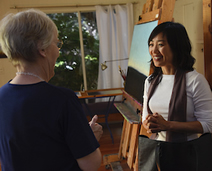 Sebi's and Barbara's first meeting
in Carmel © 2016 John Wilson
Reconnecting with filmmaker Sebi Lee is the third example of the magic and power of second chances that have been at play for Bullock photography. Some of you may remember Sebi's name and the documentary film project on Wynn's life that we started work on back in 2016. As it turned out, the timing for that enterprise wasn't right and the effort was terminated by mutual consent.

What Am I Made Of
Company Logo (WAIMO)
Since then, Sebi has been devoting much of her energies to developing the partnerships and resources necessary to do the kinds of projects that are most meaningful for her. She and three very talented, experienced colleagues in the filmmaking world have recently formed a new multi-media production company called "What Am I Made Of?" or WAIMO for short.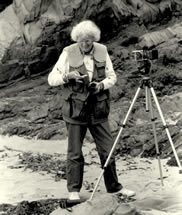 Edna Leading Big Sur Workshop
© 1987 Randall Lamb
Sebi and her partners Marco Alfredo Paez, Simona Pakosta, and Tary McCullough believe they now have everything in place to pursue a variety of projects that will contribute to a world that is more loving, just, and harmonious for all forms of being – projects that not only nurture and inspire the human spirit, but that also foster life-giving, affirming connections with the earth of which humanity is an inextricable part.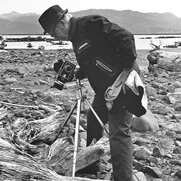 Wynn Leading Oregon
Workshop c. early 1970s
(photographer unknown)
Excited by all that's been coming together in her new cooperative venture, Sebi reached out to me this April in hopes that we could make a fresh start – a second chance that held much more promise for accomplishing not only long-held dreams, but future possibilities as well. We talked about Edna's creative legacy in addition to Wynn's; my ongoing Bullock Family Photography Archive project; and Swan – A True Life Fairy Tale, the story book I've written that is luminously illustrated by Austrian photographer Nicola Hackl-Haslinger.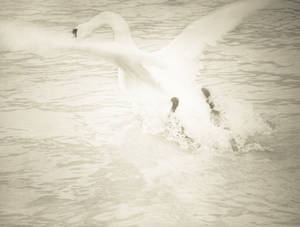 Swan Taking Flight © 2020 Nicola Hackl-Haslinger
Our discussions were followed by in-person visits, one of which included Marco, and an international Zoom meeting in which Sebi's whole team participated. To a person, they have wholeheartedly embraced all three areas of interest and we're now exploring how we can most effectively collaborate on them. For Swan, it's likely to be an animated film version of the book. For Bullock photography, it may turn out to be more than one film – perhaps a documentary celebrating Edna's life and creative journey and another on Wynn's. Alternatively, it could be a single film that tells the story of a family of artists. For the Archive project, we're talking about short promotional videos that can be shared with potential donors, along with social media postings that will generate greater appreciation and support for the Archive.
The prospects are exhilarating and I'm looking forward to being part of the development process. For a fuller picture of the talented people I'll be working with, I have the following brief profiles to share.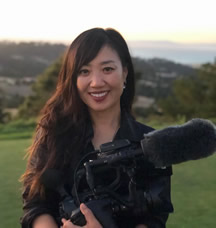 Sebi Lee © 2019 Ray Kim
Sebi Lee: An Emmy® Award-winning storyteller, Sebi will serve as the Chief Creative Director for the new company. Born and raised in South Korea, she came to the U.S. to study filmmaking as a way to fulfill her passion for creating and sharing compelling life stories. Over a period of 13 years with Arizona Public Media, a PBS station located on the campus of the University of Arizona at Tucson, she produced, directed, wrote, and edited over 500 short features, several quarterly art shows, and longer documentary films, some of which were broadcast nationally. In addition, her work with an advertisement company that produced high-end corporate TV commercials and web contents extended her skill sets and allowed her to enhance her craft. For the past 10 years as consulting producer/instructor/mentor for the National Association of Latino Independent Filmmakers (NALIP), she has been given the opportunity to give voice to the marginalized as well as develop her own voice as an Asian woman filmmaker.

Simona Pakosta ©
2021 Emma Pakosta
Simona Holikova Pakosta: Based in Prague, Simona has the role of Chief Executive Officer. An alumna of the University of Maine Business School, she received her graduate degree in Consumer Studies from the University of Arizona, where she met and subsequently bonded with Sebi. Simona has held management positions in several global corporations in both the U.S. and Europe. She currently holds an executive position with a European insurance and investment company and is a long-time volunteer with underprivileged children. Her creative work often focuses on topics of mindfulness, empowerment, and social consciousness. One of her key goals is to tell stories that inspire people to connect with each other and the world from a global perspective.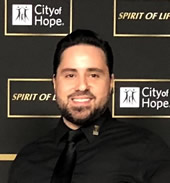 Marco Alfredo Paez, 2020,
Courtesy of City of Hope
Marco Alfredo Paez: An immigrant from Quito, Eduador, Marco will fill the position of Chief Operating Officer for WAIMO. Rather than pursuing more traditional academic avenues, Marco gained his rich filmmaking experience by working, volunteering, and interning on motion picture projects, film festivals and other industry events. His film credits include a short film titled Amelia which was well-received on the 2013 film festival circuit and Acts of Revenge, a feature-length film which is currently streaming on VUDU. As the son of a diplomat, Marco's international upbringing fostered in him a calling to serve and give voice to the voiceless, especially minority groups and the LGBT community of which he is a proud member.

Tary McCullough
© 2021 Sebi Lee
Tary McCullough: Tary completes the four-person team as the company's Chief Video Editor. Growing up in a family of photographers, his appreciation for both the aesthetic and creative aspects of art-making was developed at a very early age. His deep love of music and cinema also set the seed for what would eventually blossom into a career of video editing which he began practicing as a youth of 15. Since then, he has been dedicated to honing his skills in a profession he is passionate about.
Beyond these four principals, WAIMO also has expert legal counsel and agent representation in place. Sebi has done her work well!
---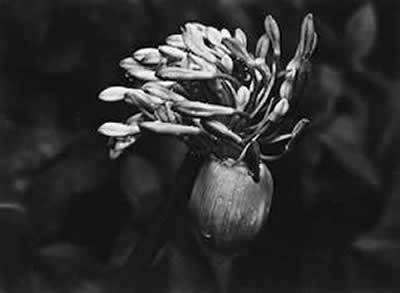 Edna Bullock:
Lily of the Nile #2, 1976
To close on a personal note, I am feeling both the stirrings of fresh energy and opportunity as well as the effects of a lingering fatigue from a year fraught with turbulence, hardship, and trauma.
For those of you who have cause for grief, my heart goes out to you.
To everyone, I send an image of encouragement, renewal, and hope for better times ahead.
Until next time,

Barbara Bullock-Wilson, Managing Member
Lynne Harrington-Bullock, Member
Bullock Family Photography LLC

Copyright © 2021 Bullock Family Photography LLC Unless Otherwise Noted. All Rights Reserved.
Website and Newsletter design and management by David Gordon