---
CATCHING UP – JANUARY THROUGH JULY 2019
We have been so busy with shows, special events, and other activities during the first half of 2019 that this is our first update in a very long while. As you will see, we have some exciting announcements to share, along with our review of all the wonderful things that have happened with Bullock photography since the beginning of the year.
TWO PHOTOGRAPHERS:
WYNN BULLOCK AND IMOGEN CUNNINGHAM
DVD NOW AVAILABLE FOR SALE!
Originally produced by award-winning filmmaker Fred Padula in 1966, Two Photographers is a candid and revealing dialog between two unique artists. It captures both Wynn and Imogen making photographs in their chosen locations and includes a meaningful selection of their work.
Fred recently completed a painstaking re-mastering his original 30-minute, 16mm film and added a new second feature titled Three Photographers in Conversation. In it, Judy Dater and Chris Johnson join Fred in talking about the friendships they each shared with Wynn and Imogen as well as how these two great photographers influenced them and their work.
Bullock Family Photography and the Imogen Cunningham Trust are the exclusive distributors of this historic film that has been beautifully updated and expanded. Two Photographers is now available in both standard DVD and Blu-Ray formats. We are the only source for the Blu-Ray edition and you may order copies in either format at our Online Store.
---
UNDER THE PERSIMMON TREE:
WITH BARBARA BULLOCK-WILSON
This event was part of a series of conversations/interviews between Henry Miller Memorial Library Director Magnus Toren and invited guests who have strong connections to Big Sur and the central coast.
Wynn's older daughter Barbara was the featured guest on Sunday, July 28, from 3-5pm. The event was free and open to the public.
The audio recording of the interview/conversation between Barbara and Magnus has been posted on the Library's website and is now available for listening.
---
NEW GALLERY REPRESENTATION
This spring we established new relationships with two galleries to represent Wynn's work.
The first is the Paul Mahder Gallery in Healdsburg, CA, a popular tourist destination located in the wine country of northern Sonoma County. Paul initiated his work with us by hosting a handsome show that opened on April 26 (see the exhibition listing below). Paul is especially interested in the imagery Wynn created in the late 1960s and early 70s and will be handling our limited edition, fine art estate prints as well as selected original work.
The second gallery with which we have established a representative relationship is the highly regarded Peter Fetterman Gallery. Founded 25 years ago, PFG is exclusively dedicated to fine art photography, especially classic 20th century imagery. One of the pioneer tenants in Bergamot Station, also known as the Santa Monica Center of the Arts, PFG is the only gallery in southern California working directly with us. Peter's love of Wynn's work is long-standing, and he and his staff plan to focus on the whole spectrum of Wynn's vintage work.
---
CURRENT & UPCOMING EXHIBITIONS
The Weston Gallery is celebrating its newly remodeled space with a show of work by several of its featured artists, including Ansel Adams, Wynn Bullock, Rod Dresser, and Alan Ross.
Opening on July 4 and running through August 18, this group show at the Monterey Museum of Art draws selections from the Museum's permanent collections. Included are photographs by Morley Baer, Edna Bullock, Kenneth Parker, and Cole Weston, along with work by Emile Norman, Eyvind Earle, and Francis McComas, among others.
Once again, Bullock Family Photography is participating in the Carmel Bach Festival Art Raffle Exhibition. Opening on July 9, it will run through July 27 when the Festival ends. For 2019, the exhibit will feature Wynn's image of Half an Apple, 1953.
WALLS
Edna Bullock's Tree and Walls, West Pinnacles, 1985 will be featured in a new group exhibition at the Carl Cherry Center for the Arts. An opening reception will be held on August 23 from 5-7pm and the show will be on display until September 20.
2019 8 x 10 INVITATIONAL EXHIBITION
For several years, we have been invited to be part of the Center for Photographic Art's annual fundraising exhibition. This year's exhibition will include one of our beautiful limited edition, fine art prints of Wynn's image In the Surf #2, 1968 and one of Edna's image Tree, Asilomar, 1987. The show opens August 31 and runs through October 27. During this time, you can purchase raffle tickets online or in person and choose which prints you'd like a chance to win.
WYNN BULLOCK: COLOR LIGHT ABSTRACTIONS
SFO Museum at the San Francisco International Airport will host a solo exhibition of 12 of Wynn's stunning abstract color images from October 3, 2019 through January 30, 2020. Curated by Wynn's daughter Barbara in collaboration with the Museum curator of photography Kai Caemmerer, the exhibition is currently slated to be on display at the F3 Gallery. More specific information will be available closer to the opening.
---
HIGHLIGHTS OF EARLIER 2019 EXHIBITIONS AND EVENTS
EDNA BULLOCK: THROUGH A DANCER'S EYE
Concluding the Monterey Museum of Art's celebration of women artists, this solo show of Edna's photography opened on December 6, 2018 and was on display through March 10, 2019. Selected from the Museum's extensive permanent collection of Edna's work, it focused on four distinct subject matter areas: wood, flea market, fences, and nudes.
In conjunction with the show, Edna's older daughter Barbara created a PowerPoint presentation on her mother's life and work and delivered it to a standing room only audience on December 20. Titled Edna Bullock: Dancer, Wife, Mother…Photographer!, this hour-long illustrated talk is now available to be shared at other venues.
WYNN BULLOCK: SEARCHING IS EVERYTHING
Barbara was invited to be the 2019 guest speaker for the Independent Photographers Group of the Monterey Peninsula. For this once-a-year event, she produced another hour-long PowerPoint presentation, this one on her father's life and work. Delivered to a very appreciative audience on January 14, her talk was accompanied by a display of Wynn's photographs and books. This illustrated talk is also available to be given to other groups.
LIGHT WORLDS: PHOTOGRAPHIC ABSTRACTIONS BY WYNN BULLOCK & ROBERT STRIZICH
From March 13 through May 5, Radius Gallery in Santa Cruz, CA, hosted this joint show of Wynn's color abstract work and Robert's camera-less abstract black-and-white images. It represented the 8th showing of selections from our Wynn Bullock: Color Light Abstractions traveling exhibition. On April 6, an attentive audience enjoyed Barbara giving her Wynn Bullock: Searching is Everything talk and, on April 14, both Barbara and Robert participated in a lively Artists' Talk moderated by Gallery Director Ann Hazels. To view or download a PDF of the Exhibition Announcement, click here.
WYNN BULLOCK – BEYOND SIGHT: IN SEARCH OF MEANING
As mentioned earlier, the Paul Mahder Gallery launched its representation of Wynn's work with a stunning exhibition of selected vintage work and our contemporary limited edition fine art estate prints. The show was on display from April 26 through June 23 and was accompanied by a small, handsomely produced catalog. Complementary copies are available on request by emailing info at wynnbullockphotography dot com.

Edna Bullock: Through a Dancer's Eye Monterey Museum of Art Exhibition December 6, 2018 – March 10, 2019
Edna's Daughters Barbara Bullock-Wilson
and Lynne Harrington-Bullock
(photo by Gina Weston)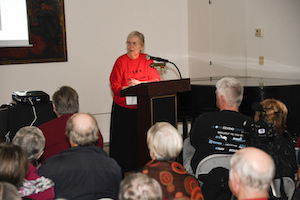 Barbara delivering PowerPoint presentation
on her mother's life and work
(photo by John Wilson)
---
Wynn Bullock: Searching is Everything
Barbara Bullock-Wilson, Guest Speaker
Independent Photographers' Group
Pacific Grove, CA, January 14, 2019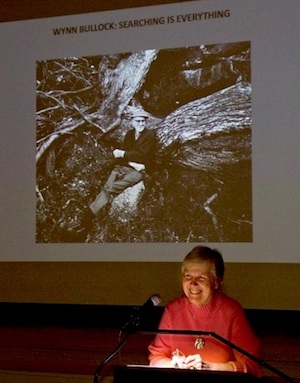 Barbara delivering PowerPoint presentation
on her father's life and work
(photo by Gary Wilson)
---
Light Worlds:
Photographic Abstractions
by Wynn Bullock and Robert Strizich
Radius Gallery, Santa Cruz, CA
March 13–May 5, 2019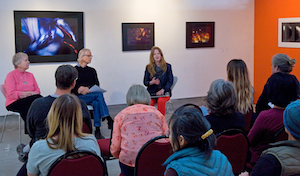 Artists' Talk with curator/director Ann Hazels,
Barbara & Robert Strizich
(photo by Gary Wilson)
---
Wynn Bullock:
Beyond Sight – In Search of Meaning
Paul Mahder Gallery, Healdsburg, CA
April 26-June 23, 2019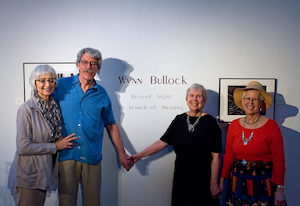 Kathleen & Dennis Abbe with Barbara
and Lynne at opening reception
(photo by Gary Wilson)
---
Click here to
sign our guestbook
Click here to
send us a message.