Contents:
Our 2022 Color Light Abstraction Calendar Wildfires and Barbara's Big Move
Special Event at the Monterey Museum of Art
---
Light has become more important than anything in the object world. There is no life without light. All matter is some form of radiant energy. It is through the magic of photography that light becomes the subject matter with colors, forms, and space/time relationships that express my deepest feelings and beliefs. ~ Wynn Bullock
When Ryan Casey, vice-president of sales and marketing at Casey Printing, described their newly enhanced color printing capability for relatively small volume projects, I knew it was time to do a calendar that freshly celebrated Wynn's Color Light Abstraction work.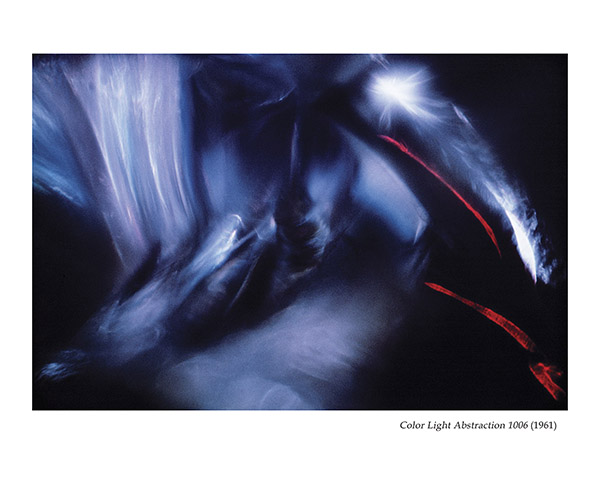 Calendar Image for February 2022
Created between 1959 and 1965, Wynn's innovative series of "CLA" images was way ahead of its time in terms of both existing production technologies and people's attitudes toward the use of color in photography. Back then, color was for magazines and advertising campaigns; black-and-white was the realm where fine art photographers dwelled.
Neither of these considerations fazed Wynn. His long-standing enchantment with the transcendent mysteries of light was too strong for him to be dissuaded by production issues or prevailing opinions. Thanks to the discovery of a macro lens which a friend introduced to him, he modified equipment and developed methods that enabled him to explore the phenomenon of light in new ways, not as an illuminant, but as a universal force and an exciting, expressive subject in its own right.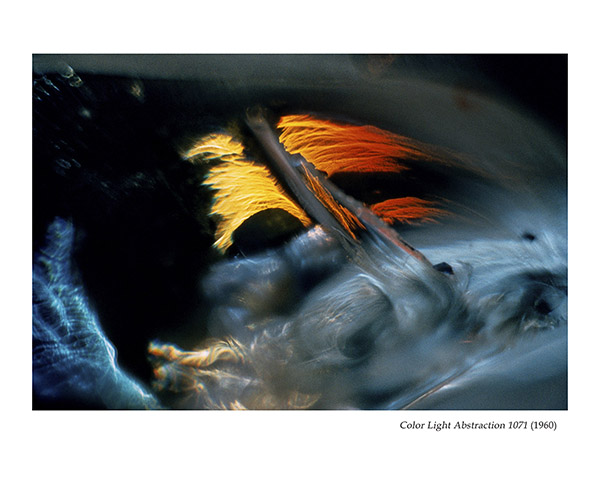 Calendar Image for June 2022
This journey into color and light was all-absorbing and captivated me and the rest of our family. I have very vivid memories of being invited into my father's studio to peer through his viewfinder and enter into worlds where cosmic and microscopic dimensions danced and played with each other, where qualities or essences of unbounded life could be seen and felt.
Featuring 12 of our favorite images from Wynn's extensive CLA series, our new 2022 collectible fine art calendar also includes additional date-page thumbnails and quotes as well as an introductory section of illustrated biographical notes.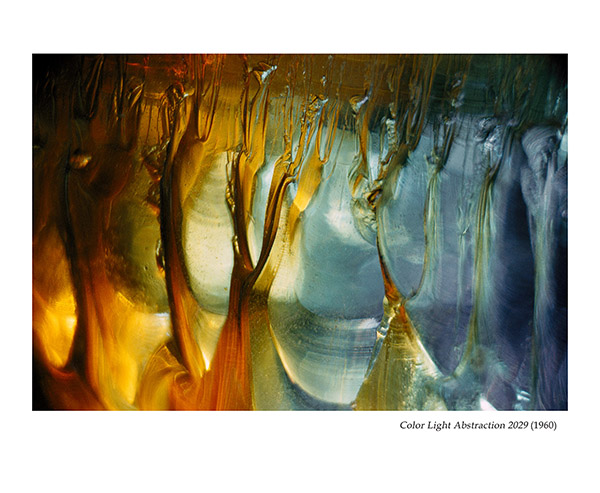 Calendar Image for November 2022
Measuring 14" by 12", every page is printed on premium cover stock and each calendar comes in a hand-wrapped, perfectly-sized crystal clear poly bag. Once opened, full quarter-inch hanging holes and white Wire-O bindings allow for easy display and optimal viewing. Offering a year-long exhibition of outstanding art, our calendars are coveted not only as individual purchases, but as meaningful gift items as well. The quality of our calendars is so exceptional that many of our customers and recipients save them in an ongoing collection or even select individual images to frame.
To view a gallery of all 12 monthly images, explore a popup window with additional calendar features, and place your orders, CLICK HERE.
To read an article I wrote about this exciting period of Wynn's creative journey, CLICK HERE. We also have a monograph devoted to Wynn's abstract color work which may be ordered here.
And finally, to enjoy our Featured Image commentaries on seven of Wynn's CLA images, CLICK HERE.
---
"Ash is falling on cities across Monterey County as two fires tear through nearby wildlands. Today, the second fire is quickly spreading in Carmel Valley, just south of the River Fire. Mandatory and advisory evacuations have been issued for the area…" ~ edited excerpt from August 18, 2020 article in The Californian newspaper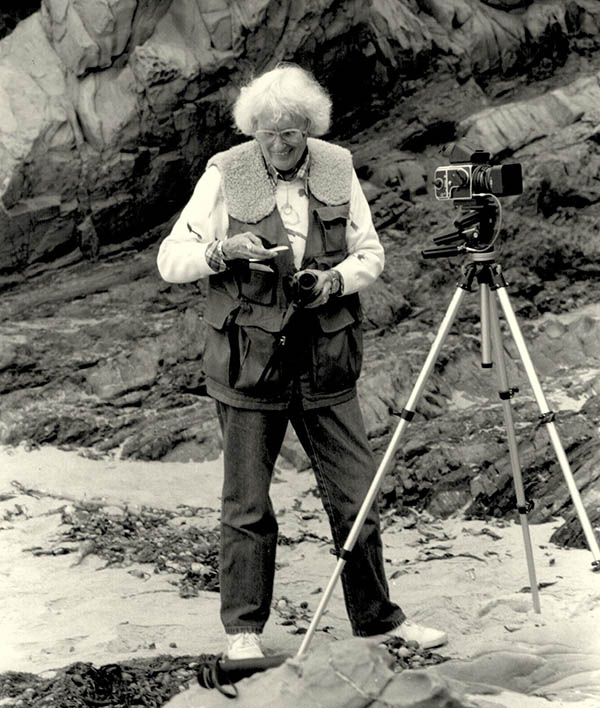 Edna at Big Sur Workshop
© 1987 Randall Lamb
In 1987, my late husband Gene and I moved from Cape Cod to the Monterey Peninsula where I had been raised and where my mother Edna Bullock still lived in the modest two-bedroom house my parents had built in 1948.
Our reasons for moving had to do primarily with our desire to live in a beautiful location with a more temperate climate that featured both mountains and ocean and that also offered a vibrant cultural life. We couldn't think of a better place than the Peninsula and Edna's presence was icing on the cake. At 72, she was midway into her career as a fine art photographer, having taken up the camera for herself a year after Wynn had passed. In full bloom, she was enjoying an active creative practice, exhibiting her work frequently, and keeping up a busy workshop and lecture schedule.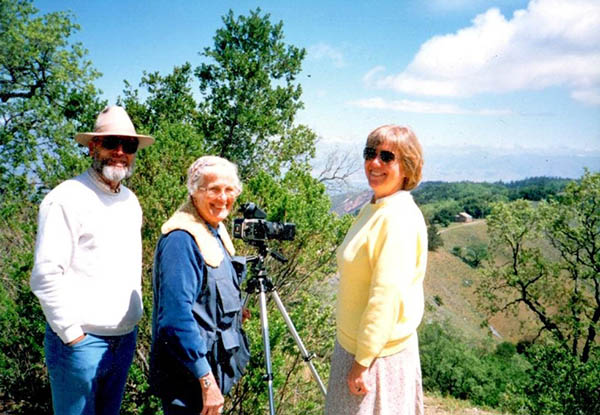 Gene, Edna, and Barbara
on photo expedition, 1990
In the natural course of things, as Edna aged, the three of us became more involved in each other's lives. My younger sister Lynne and her family had moved away from the area for work-related reasons,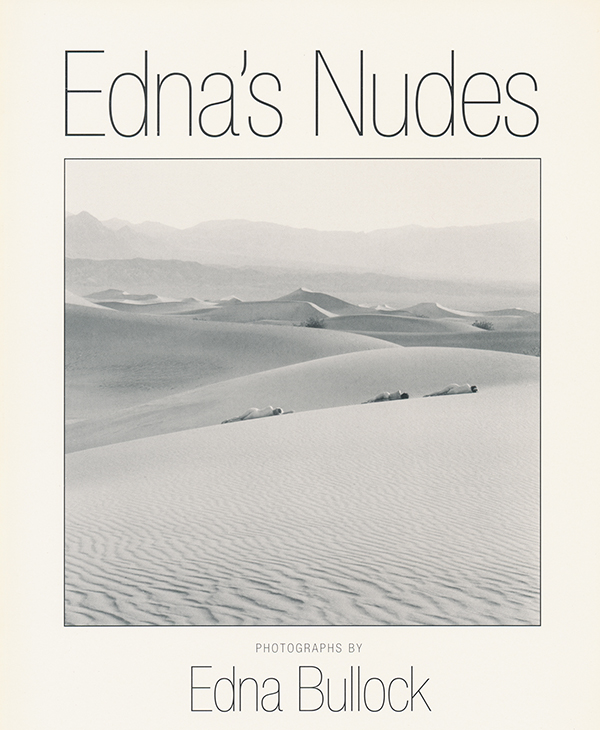 Cover of
Edna's Nudes
Capra Press, 1995
leaving Gene and me as the ones at hand for day-to-day help and support. As the author and editor of several publications devoted to Wynn's work, I joined Edna more frequently at lectures and workshops. Gene and I became her drivers and sherpas on photo expeditions. As she approached her 80th year, she and I decided to do a book together on her work titled simply
Edna's Nudes
and, for the next two years, we traveled together across the country for exhibitions and book signings I had arranged.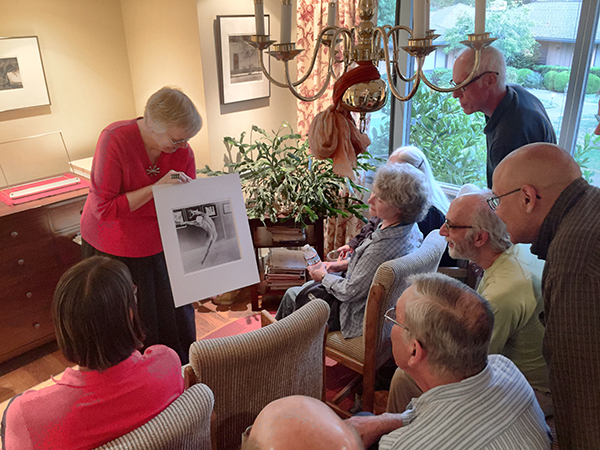 Barbara sharing Edna's
Apparition in a Gallery
at a
workshop gathering in her home © 2015 Craig Varjabedian
When Edna's health seriously declined in the spring of 1997, she moved in with Gene and me in our home in the woods atop a south-facing mesa overlooking Carmel Valley. It was there that she passed away on December 13 of that year.
Although I had no inkling of what was in store for me when Gene and I made our move to the Peninsula in 1987, the decade I shared with my mother was a gift beyond measure, one I deeply treasure. Just as I had with Wynn, I had the opportunity to know Edna not just as a beloved parent but also as a creative partner and colleague. I got to intimately experience her creative journey and share it with others.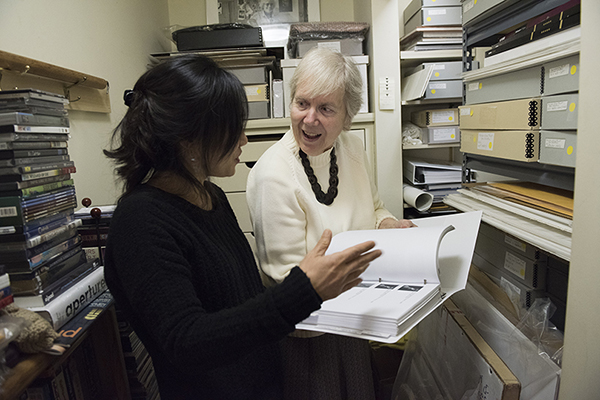 Barbara showing the Archive she and
Gene had assembled to filmmaker Sebi Lee
Thus, with Edna's passing, there wasn't just one legacy to cherish, there were two, and my commitment to Bullock photography expanded and became even stronger.
In the process of settling the estate, my sister Lynne and I each inherited significant collections of our parents' photographs. We also created Bullock Family Photography LLC to hold the copyrights to all their artwork and I became the partnership's managing member by mutual agreement. It is a role I continue to fill to this day.
Several years after Edna's passing, Gene and I decided to set aside the heart of our own inherited photo collections, along with materials I had been compiling and creating in my work with Wynn's and Edna's legacies, to form the Bullock Family Photography Archive. Before their deaths, both Wynn and Edna had expressed their desires to have such an Archive placed in an institution close to where they lived and worked. It took Gene and me years to organize the Archive, and before sufficient funds could be raised for its acquisition and placement, he passed away.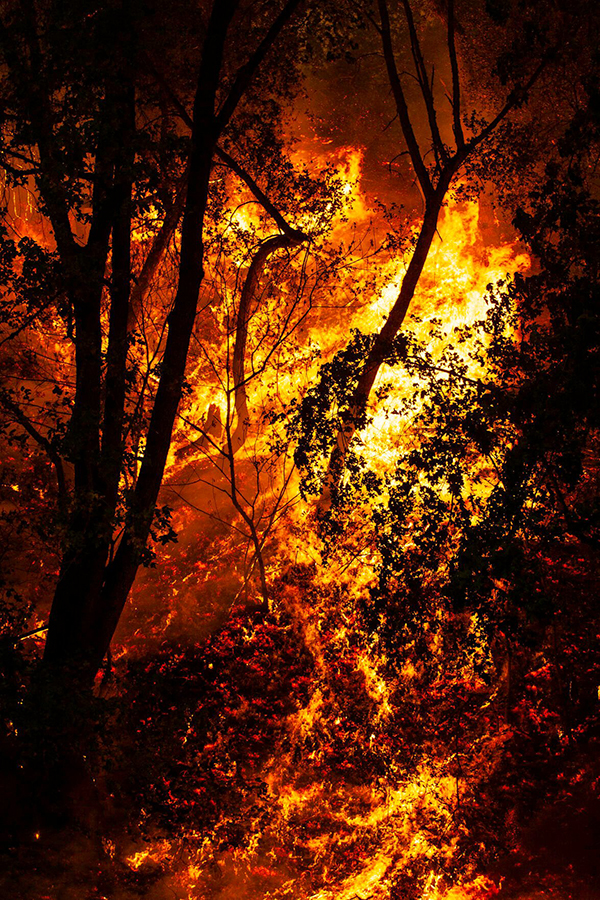 Fire raging in Carmel Valley
© 2020 Parker Seibold, staff
photographer for the
Monterey
County Weekly
Since his passing, fire dangers due to climate changes and global warming have become more and more pronounced, imperiling the forested condominium complex that we had happily called home for almost three decades. Every year as the risks of wildfires increased, so did my stress over concerns for the safety of the photo collections. Then two events happened which made the stress I had been experiencing intolerable.
First, in August 2020, three wildfires broke out in Monterey County - one on the 16th in upper Salinas Valley, the second on the 18th in Carmel Valley, and the third later on the 18th in Big Sur. Although all were in the general area where I lived, the closest was the "Carmel Fire". By August 22, each fire was continuing to spread and I felt I had to evacuate the photos. Losing my home would have been hard to bear, but losing the Archive would have been a truly devastating loss. With the help of my nephew Gary Wilson and other extended family members, the photos were protected and eventually brought back home after the fires were contained.
The second event was the cancellation of the master fire insurance policy that my homeowner's association had been carrying. It was the proverbial last straw. In July of this year, I put my condo on the market and put a deposit down on an independent living apartment in a continuous care senior retirement community in the nearby town of Pacific Grove.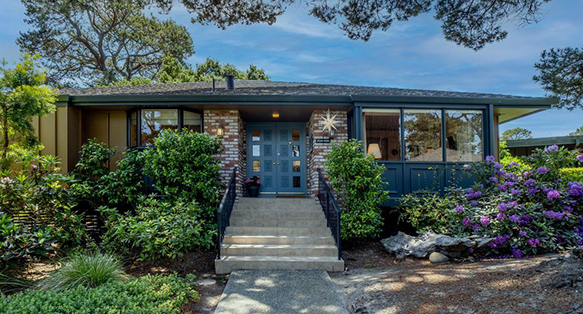 "Carmel Valley Condo for Sale"
Courtesy of Claudia McCotter, realtor for Sotheby's
On August 15, almost a year to the day of the onset of the fires, I got an all cash, no contingency offer on the condo from a couple who loved the unit and, to my great good fortune, were not concerned about fire risks. The sale closed on September 3 and, on September 27, I moved into my new home - and the beginning of a new chapter in my life.
Although the move itself was a huge undertaking - downsizing from a 1900 square foot house with full attic to a two-bedroom apartment of less than 1000 square feet with no attic - I am now cozily settled into my very different, yet already beloved, residence which is in a refurbished grand hotel that was built almost 100 years ago.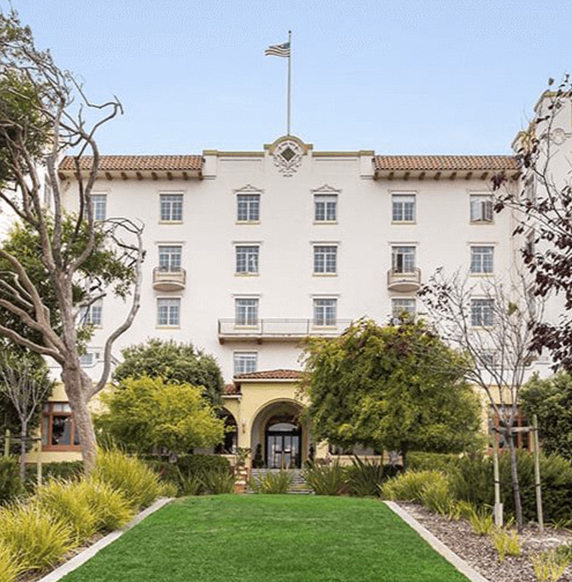 Barbara's new home in Pacific Grove
(long balcony in center)
While the physical distance between my former condo and my small, delightfully historic apartment is a matter of only eight and a half miles, the mental, emotional, and spiritual aspects of the relocation have been both enormous and beneficial. I have exchanged tall pines and oaks for expansive Monterey Bay views under open skies. Where I used to enjoy walks within a rural, more isolated compound, I now walk around a charming, vibrant town (my favorite on the Monterey Peninsula) and along lovely shoreline trails. I have also replaced deep anxiety for greater peace of mind, ease, and comfort.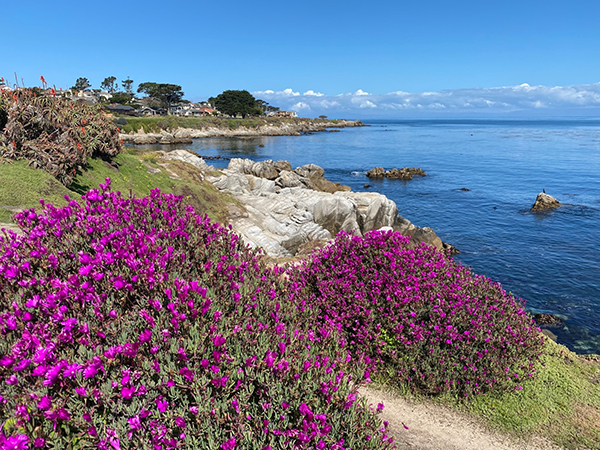 Scenic shoreline trail in Pacific Grove
© 2020 Ginger Chih
There are two additional and very significant contributing factors in my stress reduction. I now have the help and support of a wonderful Archive Advisory Council that is actively engaged in raising the needed funds for the Bullock Family Photography Archive's acquisition and placement.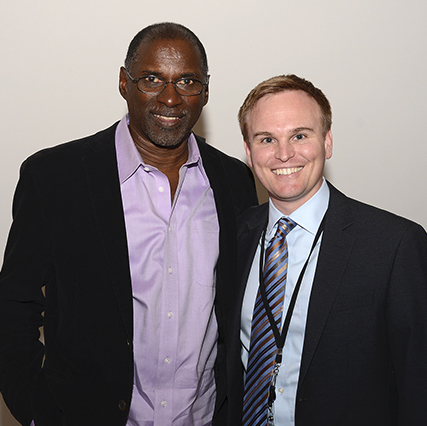 Chris Johnson and Brett Abbott,
two Archive Advisory Council
members. Photo by John Wilson
As part of my move, I was also able to negotiate a temporary storage loan agreement for the Archive with the Monterey Museum of Art. Not only is this cultural treasure safer than it has ever been, the arrangement is giving my Archive Advisory Council more time to complete their efforts. I couldn't be more grateful for the Museum's interest in and support of the Archive project that is so near and dear to my heart.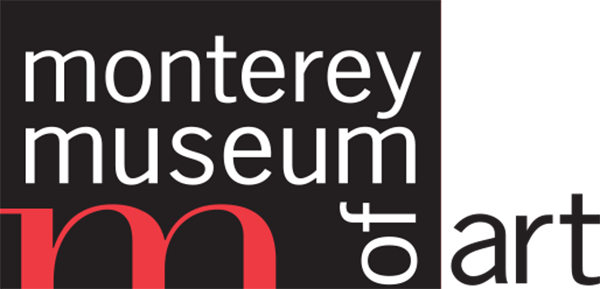 MMA Logo
With the Archive currently safeguarded, my spirit more at ease, and my long-standing commitment to my parents' legacies being shared and supported by a wonderful team of colleagues, I am looking forward to spending more time on personal writing projects.
There is a line from Ralph Waldo Emerson's poem Music that goes, "From all that's fair / from all that's foul / Peals out a cheerful song." Out of the trauma of wildfires and continual anxiety has come an anthem of change and helping hands encouraging me toward greater involvement in my own creative life. I can hear Wynn, Edna, and Gene joining the chorus singing "Alleluia!".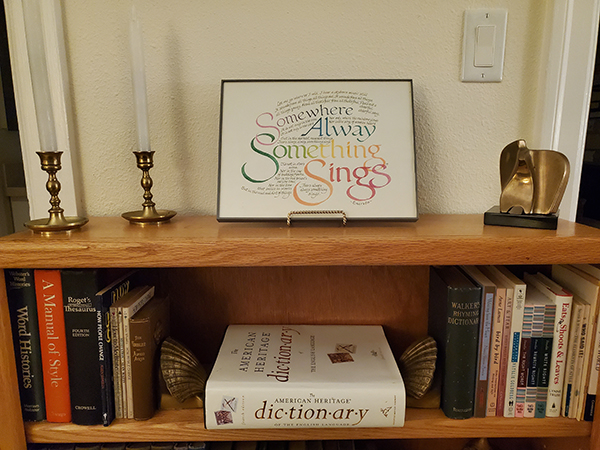 Framed artwork of Emerson's poem
Music
.
Calligraphy by Margaret Keip
(For the full text of Emerson's poem, CLICK HERE. In 1982, David Greenberg composed an SATB choir anthem adapting Emerson's poem as the text. Gene used it several times for services during the 12 years he was Music Director for the Unitarian Universalist Church of the Monterey Peninsula. The anthem with its version of Emerson's poem is a personal favorite of mine. A framed artwork of the anthem's text, elegantly calligraphed by former UUCMP co-minister Marge Keip, sits on a bookcase in my study where it is a source of daily inspiration.)
---
"I hope your move has gone smoothly and that life is settling down a bit. I have a BIG FAVOR to ask - that I hope will also help you as you build support for the Archive. MMA is launching a Collector's Circle program - aimed at the passionate supporter of the arts with a thirst to learn directly from creatives…. We plan to launch the series by focusing on photography. Having the Bullock family collection in house at MMA offers us a truly unique (and time limited) opportunity to focus on Wynn and Edna's amazing oeuvre. Would you be willing to support this idea - and be one of the presenters?" ~ Corey Madden, Executive Director of the Monterey Museum of Art

Corey Madden, Executive Director of the
Monterey Museum of Art, Courtesy MMA
Having made the "BIG MOVE", I am still amazed at how well all the parts of it, both obvious and unexpected, fell into place. Despite logic pointing out the many issues, pitfalls, and uncertainties that could have derailed the whole thing or even dissuaded me from even trying, I felt impelled - quite emphatically - to take the leap. There was no question about choice of realtor, which of several facilities on the Peninsula would become my next, and most likely, final home, or how I should handle the Archive with its irreplaceable artwork. It was as though there was a force, a knowing beyond reason, that was clearing the way and setting the stage for the next phase of my life.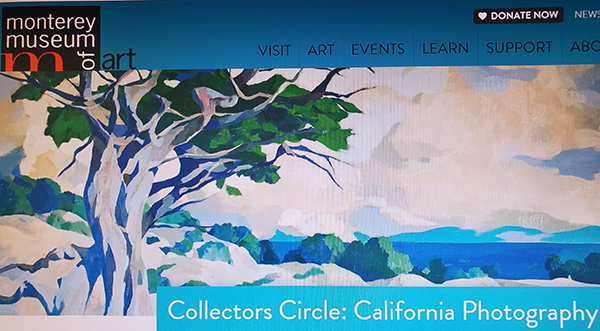 Collectors Circle - California Photography
In approaching the Monterey Museum of Art with the possibility of providing a temporary safe home for the Bullock Family Photography Archive, I was completely unaware that they were already working on plans to launch a new Collector's Circle program. The intention of the program was to offer a series of interactive experiences to a select group of passionate art lovers who could provide critical funding for the Museum's various activities, including the fostering of relationships with regional artists through acquisitions, educational programming, exhibitions, AND help with artist-related projects such as mine. It was a marvelous example of synchronicity at work.
Corey Madden, MMA's executive director, and her colleagues had already decided to host three special events over the coming year. They had chosen to start with photography, given its revered history as well as well its dynamic contemporary practice within our central coast communities. Taking advantage of our newly negotiated loan agreement to further support the Bullock Archive project in addition to offering what they saw as a relevant and exciting opportunity for their patrons, they invited me to be part of the inaugural event by giving a special presentation on the Bullock legacies using items from the Archive collection currently in their safekeeping.
The intimate, invitation-only event was held on Saturday afternoon, November 13, at MMA's La Mirada annex - an elegantly remodeled historic estate with lovely landscaped patios and a renowned rose garden.
Getting Ready


Welcome Table in Entry Courtyard

Presenters Ken Parker, Chris Johnson, Martha Casanave,
Barbara, Brian Taylor, Ann Jastrab

Ann, Chris, and Brian checking their 4x5 cameras
for after lunch activity. Photo by Ken Parker

Fireside Room Set-up
Arrival of Guests


Meeting & Greeting

Check-ins continue

Joyful reconnection!
For my presentation, I chose to use Wynn's one and only black-and-white portfolio for which Ansel Adams wrote the Introduction. I supplemented the 12-print portfolio collection with an example of Wynn's Color Light Abstractions, a work print to illustrate his negative imagery of the early 1970s, a vintage photograph of Edna's that marked the beginning of her own career as a fine art photographer, and a small selection of ephemera items, including portraits of Wynn and Edna, a few Bullock monographs, and prized photographic paraphernalia. During the hour that I spoke, I interwove family lore and personal reminiscences with backstories of the 15 featured photographs.
Barbara's Presentation


Corey's introductory remarks

Close-up of program
Photo by Ann Jastrab

Beginning of Barbara's talk


Wynn and Family of Man show.
Photo by Martha Casanave.

Close-up viewing of Wynn's Woman's Hands

Illustrating Wynn's negative printing with
"straight" and negative print of Pebble Beach

| | | |
| --- | --- | --- |
| Last photograph from Wynn's Portfolio | Recording a Memory | Post-talk viewing |
After the presentation, we moved out into a courtyard adjoining the spacious fireside room where my talk had taken place. It was a beautiful warm day, graced with clear fall light and we were treated to a delicious lunch catered by local Chef Rima Mazzeo Crow that was accompanied by a fine Pinot Noir from the Bowlus family's central coast Albatross Ridge Winery.
Lunch and Conversation


Great Job!

Gathering for lunch

Good food, good wine, good conversation

Corey introducing next activity
Lunch was followed by a lively hands-on activity in which every attendee had the opportunity to experience using a 4x5 view camera to make their own Polaroid photograph. This part of the event was facilitated by five contemporary photographers - Ken Parker, Chris Johnson, Brian Taylor, Ann Jastrab, and Martha Casanave. Gifted practitioners of the art of photography as well as renowned educators and knowledgeable supporters of Bullock photography, each of these imagemakers contributed significantly to the joy of the day.
Making Portraits of Each Other


Martha Casanave's Group

Taking a Polaroid of Barbara & Martha

Enjoying the result

Another guest holding her wonderful portrait
The afternoon event concluded with farewell acknowledgements and the gifting of copies of the Wynn Bullock monograph The Enchanted Landscape which I had the pleasure of personally inscribing to everyone who was present. I am always grateful for the opportunity to share my parents' creative journey with others, and MMA's November 13 program was an extraordinarily special occasion. It was a celebration of the art of photography, past and present, that also augured well for its future as measured by everyone's enthusiastic engagement and appreciation. I was delighted to be part of it.
| | |
| --- | --- |
| An unexpected gift | Sharing gratitude |
(Except where noted, all MMA images © 2021 Moss Media Carmel, Reg Regalado photographer;
Courtesy Monterey Museum of Art, Collectors Circle 2021)
---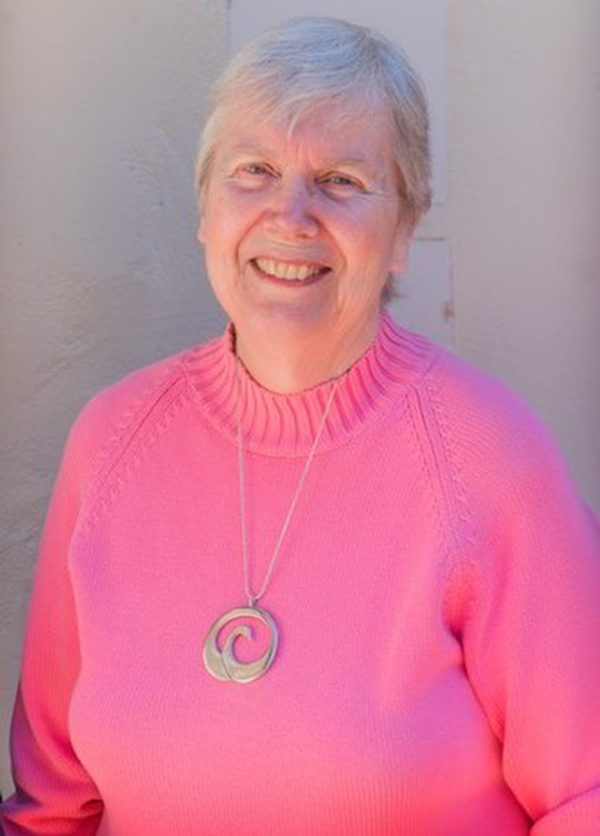 Portrait of Barbara
© 2021 Moss Media Carmel,
Courtesy MMA, Collectors Circle 2021
In closing, I want to extend heartfelt thanks to Ryan Casey for his steadfast dedication to producing exceptional products for us; to Gary Wilson, Magdalena (Maddi) McCann, Claudia McCotter, and Jody McConnell, along with her wonderful colleagues, for their invaluable help in my move; to Corey Madden and her exceptional staff for their support not only of Bullock photography, but also of all California-based art and artists, both historical and contemporary; and to my Archive Advisory Council for their devoted efforts to promote, protect, and preserve the creative legacies of the Bullock family.
I have joyfully settled into my new home and been warmly welcomed by fellow residents. I am looking forward to the unfolding of this next chapter of my life with deep gratitude for what has been and an open spirit for whatever adventures lie ahead.
Until next time,

Barbara Bullock-Wilson, Managing Member
Lynne Harrington-Bullock
Bullock Family Photography LLC

Copyright © 2021 Bullock Family Photography LLC Unless Otherwise Noted. All Rights Reserved.
Website and Newsletter design and management by David Gordon