Contents:
2019 Calendars: Wynn & Edna | Edna Bullock Note Cards | Edna Bullock Solo Show
Two New Featured Images | Presentation in Monterey | Bullock Family Photography
Limited Edition Estate Prints | Original Photographs
---
The fact that I'm probably best known for my nudes doesn't mean that's all I'm interested in. My photographs of nudes represent only a part of my work. The truth is I love life – especially the quiet, commonplace, often overlooked aspects of it – and a good way for me to explore it is to make portraits…not just of people but of other things as well that reveal something interesting about their being and about life as a whole. ~ Edna Bullock
| | | |
| --- | --- | --- |
| The 2019 Wynn Bullock Calendar | | The 2019 Edna Bullock Calendar |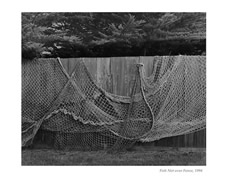 Edna's Image for March
Fish Net over Fence, 1994
Taking our cue from the Monterey Museum of Art's current Year of the Woman, we are beginning to shine new light on Edna Bullock, the second photographer in our family.
As many of you know, Edna didn't take up the camera until a year after Wynn died. At the time, she was 61 and she proceeded to create a flourishing career as an artist and workshop leader until her own death twenty-one years later.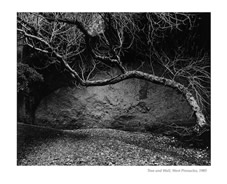 Edna's Image for May
Tree and Wall, West Pinnacles, 1985
As part of our efforts to more actively share Edna's remarkable life and work, we have produced a calendar that celebrates her photographic journey in twelve captivating images, some interesting text passages, date pages with thumbnails of additional images, and an illustrated section of biographical notes.
Nine of the twelve photographs in our Edna calendar are ones that will be on display as part of her upcoming solo exhibition at the Monterey Museum. In addition to offering a gallery of images that can be enjoyed throughout the year, the calendar promises to become a valuable memento of this noteworthy event.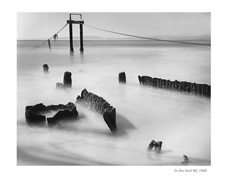 Wynn's Image for March
In the Surf #2, 1968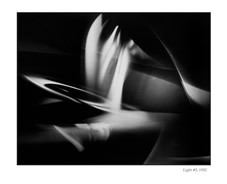 Wynn's Image for January
Light #3, 1952
Wynn's calendar for 2019 is equally beautiful and features all new selections of his black and white work, including several images that may be unfamiliar to many of you.
Thanks to our continuing work with Casey Printing, a fourth-generation, family-owned establishment right here in Monterey County, our 2019 calendars reflect the same exceptional quality of production that you've come to expect from Bullock Photography.
To preview each calendar and to place your orders, click here.
---
Since Wynn's death, Edna has made a life for herself in a most unexpected way. Now, as a serious photographer, she has achieved a great deal of success as an artist. In her quiet manner, she has absorbed much of Wynn's spirit and knowledge without ever imitating him. Edna is a remarkable woman indeed, and I truly admire her.
~ Ruth Bernhard, photographer
In another effort to spotlight Edna's artistry, we have created a whole new card collection bearing her name. Complementing our current card collection of Wynn's four black-and-white images, Edna's set of four includes the following photographs which represent a range of subject matter and mood.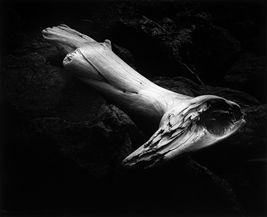 Edna Bullock -
Driftwood, 1978
Driftwood, 1978, is a quietly eloquent depiction of contrasting elements and qualities. Made less than two years after she began her camerawork, it is part of her series of wood studies. In one of her slide lectures, Edna explained, "When I started out in the mid-1970s, I wanted to photograph something that Wynn had not done – a subject that would be mine. I decided to photograph wood knots and knot holes because their textures and movements appealed to me."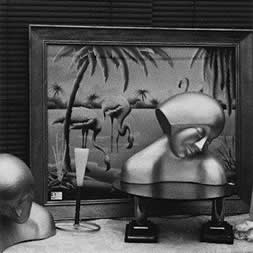 Edna Bullock -
Flea Market #3, 1980
It was in the early 1980s while attending a history of photography class with our mother that my younger sister Lynne met her future husband Gil Harrington. And it was Gil who introduced both of them to the adventures of flea marketing. Over the next several years, Edna routinely accompanied Gil and Lynne to the markets. While they pursued interesting bargains, Edna did a different kind of treasure hunting. Using a small, fast Olympus Pen F half-frame camera, she produced an extensive body of work. Flea Market #3, 1980, is a family favorite.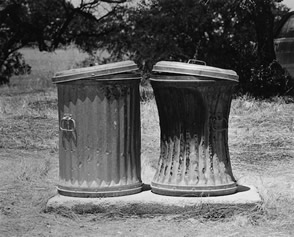 Edna Bullock -
Garbage Cans, 1983
Monterey photographer Morley Baer once wrote, "It has been a great delight to observe Edna Bullock's transformation from devotion to a photographer to a resolute and liberating photography of her own." Two of the qualities she often incorporated into her work were humor and playfulness. Garbage Cans, 1983, is a marvelous example of Edna at play.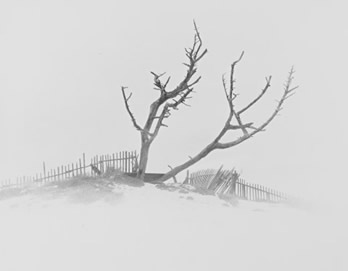 Edna Bullock -
Tree, Asilomar, 1987
Tree, Asilomar, 1987, is an evocative image that Edna considered a key work in her fence series. In an interview conducted in the early 1990s, Edna shared, "Lately, I've been using my camera to explore fences, gates, and passageways. I'm getting older now…. I find myself intrigued by boundaries, junctures, openings, and closings."
With the addition of our Edna Bullock Card Collection, you may now order a set of Edna cards (two of each image with envelopes), a set of Wynn cards (two of each of his four images), and a mixed set of Edna and Wynn images (one each of all eight images).
To view all three notecard sets in detail and to place your orders, click here.
---
We are thrilled to end our Year of the Woman programming with works by Edna Bullock whose inspiring story and cutting-edge photographs wholly reflect the mission and values of the Monterey Museum of Art.
~ Stuart Chase, MMA Executive Director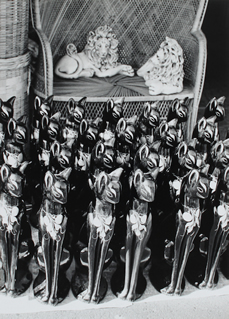 Edna Bullock - Cats, 1982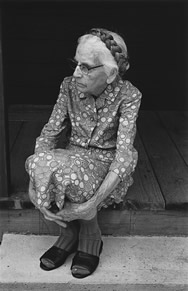 Edna Bullock -
Lillie, 1976
Edna loved the Monterey Museum of Art. Before she died in 1997, she instructed my sister Lynne and me to posthumously gift a very significant collection of her photographs, along with books and other archival materials, to "her" museum.
Although individual photographs from this collection have occasionally been displayed as part of various group shows over the past twenty years, this will be the first solo exhibition of her work at the Museum. Opening on December 6 and running through March 10, 2019, Edna Bullock: Through a Dancer's Eye will not only give Edna's fans a long-awaited treat, it will give everyone who views it the opportunity to be freshly inspired by the story and imagery of a vibrant, multi-talented woman who began a whole new career at an age when many people are looking toward retirement.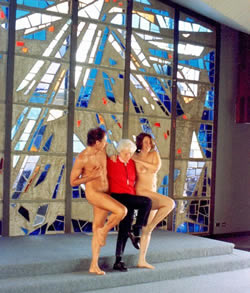 Edna & Models at UC Arts Studio Workshop
© 1991/2018 M. N. Ott
I have had the pleasure of working closely on this project with Stuart Chase, Executive Director of the Museum; John Rexine, Manager of Collections and Exhibitions; and several other staff members.
Asked to write several informational pieces for the exhibit, I am happy to share them here – especially for those of you who won't be able to visit Monterey while the show is on display. Edna Bullock: Dancer, Wife, Mother, Teacher…Photographer! (pdf) is an article I wrote for the Fall/Winter 2018 issue of the Museum's member newsletter Musings....
The text I prepared for the exhibit's Introductory Panel may be accessed here, and to read what Edna had to say about the three great loves of her life, click here.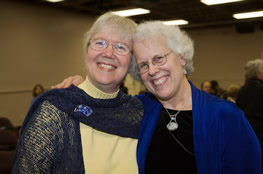 Barbara & Lynne
© 2010/2018 Jack Wasserbach
Several activities have been planned in conjunction with the show. On December 5, the day before the show's official opening, Lynne and I have been invited to lead a walk-through of the galleries for the Museum's docents. To read more about us and the experiences we enjoyed with our mother the photographer, click here.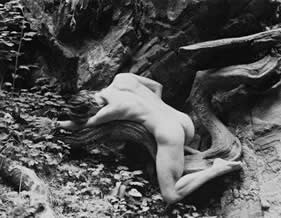 Edna Bullock -
John on Root, 1990
During the show's opening weekend, the Museum's monthly First Friday reception coincides with Monterey's 35th Annual Christmas in the Adobes of which the Museum is a part. Friday, December 7, will be an especially festive evening, and from 5-7pm, Lynne and I will be at the Museum to welcome people to Edna's show. Christmas in the Adobes continues on Saturday, December 8, and once again, I will be at the Museum from 5-7pm to greet visitors, share stories, and answer questions.
On December 20 from noon to 1pm at the Museum's La Mirada Education Center, I will be giving a PowerPoint presentation on my mother's inspiring life journey. It will include an array of cherished family photos as well as ample selections of artwork that illustrate her entire photographic career.
To read a nice article about the upcoming exhibition that was published in the November 29, 2018 issue of the Monterey County Weekly, click here.
Throughout the run of the show, if you would like a personal tour, please let me know. I would be happy to accompany you.
---
This picture makes me think of a secret area that no one would ever go to or think of. Looking at The Horsetail makes me wonder how it survived…. I wonder who or what used to live there in the cabin and what lives there now…maybe an owl or even a lizard. ~ Cameron (Cam) Rokes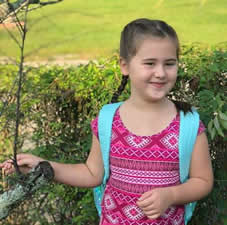 Charlotte Rokes, 2018 (family photo)
One of the primary reasons I'm committed to managing the Bullock photography estate is to help keep the artistic legacies of both Wynn and Edna alive and readily available for new generations to discover and enjoy.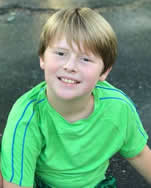 Cameron Rokes, 2018
(family photo)
As part of this effort, I decided last year to begin writing short commentaries about several Wynn Bullock images in the form of letters to two of my great grandchildren – Cameron Rokes, who was born in 2007, and his younger sister Charlotte, who was born in 2011. In these letters, I invited both Cam and Charli to respond with their own ideas and thoughts. To my delight, they did and my first such exchange with Cam was posted as the Featured Image commentary for November 2017. The next shared posting was in August 2018 and my co-commentator that time was Charli.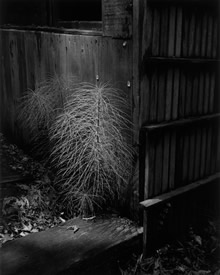 Wynn Bullock -
The Horsetail, 1957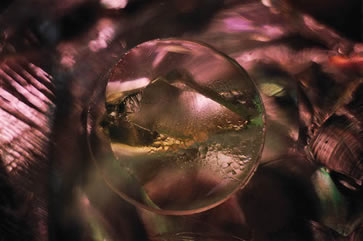 Wynn Bullock -
Color Light Abstraction 1177
(1962)
With this newsletter, we are posting two more shared commentaries. For November 2018, Cam and I exchange thoughts about Wynn's image titled The Horsetail, 1957.
For our December 2018 Featured Image, Charli and I talk about Color Light Abstraction 1177 (1962).
Although addressed to my great grandchildren, these letters are also meant to serve as open invitations for everyone to engage more actively in the process of viewing and appreciating Bullock imagery. As you listen to the shared commentaries and look at the photographs, what feelings and thoughts well up in you?
---
My photography is the best way I have of coming closer to some of the mysteries of existence. To make a good picture is part of my search. I'm not searching with my camera to please anyone or to report on happenings or to sell pictures. I photograph to learn and to understand. ~ Wynn Bullock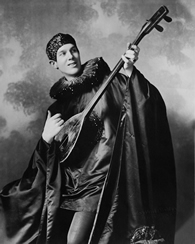 Wynn in Costume,
Music Box Revue, 1923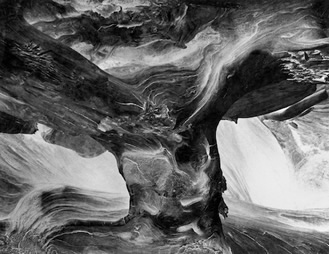 Wynn Bullock -
Tree Trunk, 1971
Thanks to the Independent Photographers' Group of the Monterey Peninsula, I am being given another joyful opportunity to share Bullock photography with others. This time the focus will be on Wynn and, for the occasion, I will be creating a new PowerPoint presentation on his fascinating journey from boyhood athlete to concert singer to husband and father to master photographer.
For Wynn, life was a transcendent mystery and living was an exhilarating, challenging quest to gain some insight into that mystery. As he expressed it, "Searching is everything – going beyond what you know. And the test of the search is really in the things themselves, the things you seek to understand. What is important is not what you think about them, but how they enlarge you."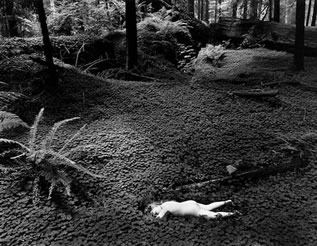 Wynn Bullock -
Child in Forest, 1951
He also said, "The urge to create, the urge to photograph, comes in part from the deep desire to live with more integrity, to live more in peace with the world, and possibly to help others do the same."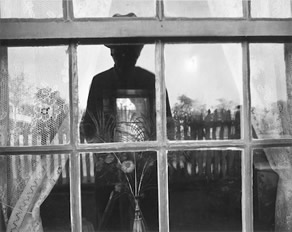 Wynn Bullock -
Self-Portrait, 1971
Like the presentation I will be giving on Edna for the Monterey Museum of Art in December, my talk on Wynn will include a treasure trove of family photos. In addition, it will contain a generous selection of his images that will illuminate his creative explorations.
The event will take place on Monday, January 14, at 7pm in the auditorium of Canterbury Woods, a senior residential complex located at 651 Sinex Avenue in Pacific Grove. The evening is open to the general public, and if you would like to learn more about Wynn and his work, please come and join the gathering.
---
Edna brought a portfolio to the house one day and asked me to look at it. She didn't want the usual praise, she really asked for and wanted honest criticism. It was a series about knot holes, and it was pretty damned good. Edna was producing substantial work in a tenth of the time it takes most serious photographers. She then became totally immersed: going to workshops, assisting at workshops, and eventually teaching workshops. All this, like above, in a fraction of the time others take. There was no sense of urgency, just a feeling of no messing around, and full steam ahead. It never entered my mind that Edna was older, or that she was a woman. In my mind, Edna moved from being the quiet and supportive wife of Wynn Bullock to being Edna Bullock, Photographer. And it seemed to happen overnight. ~ Al Weber, photographer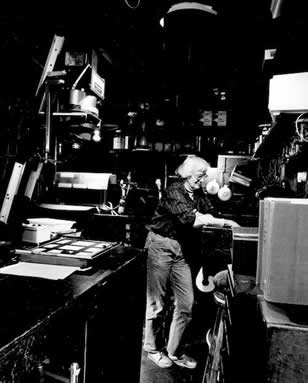 Edna Bullock in Darkroom
© 1980/2018 Kurt Fishback
Next year we are planning to redesign our website presence to explicitly include Edna as well as Wynn.
For years, we've been wanting to give her the attention she so richly deserves, and we're tremendously excited that it's finally going to happen with the help of our wonderful webmaster David Gordon.
Actually, our 2019 Edna calendars and Edna notecards are important steps toward this long overdue goal, and for both these things, we have the Monterey Museum of Art to thank. It is their recognition of her in the form of a solo exhibition that inspired the creation of these items and has given us just the impetus we needed to move forward.
This project will definitely be a work in progress and we'll keep you informed every step of the way.
---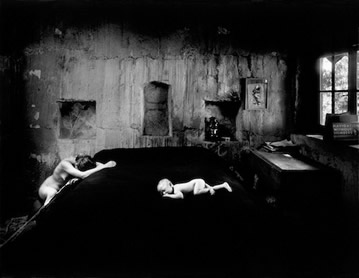 Wynn Bullock -
Navigation without Numbers, 1957
Signed original gelatin silver photographs by Edna and Wynn are a rare commodity. As artists, they chose to devote their primary energies to their creative journeys rather than to producing quantities of individual photographs and photo editions that could be sold.
Now, with today's superb digital technology, we are able to address the issues of scarcity and affordability of original photographs by offering lines of authorized estate prints in limited editions.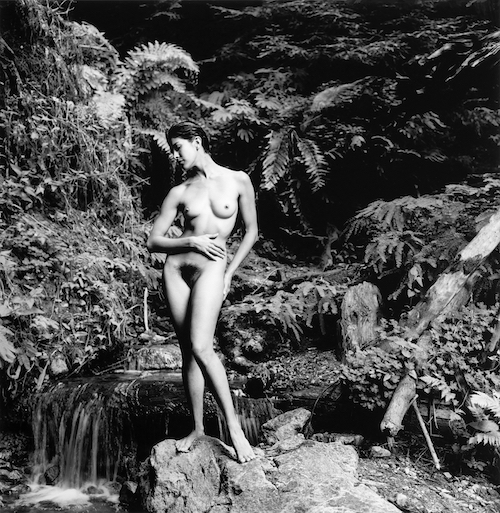 Edna Bullock -
Michi, 1993
For Wynn's and Edna's black-and-white work, our archival pigment prints are made from high-resolution digital captures of their original photographs, each carefully selected to represent his or her creative vision and craftsmanship for that individual image. I work closely with a select team of digital, computer, printing and mounting experts at every step in the development and production process. The master files that have been created for all our black & white estate print images reproduce the quality and spirit of Wynn's and Edna's original photographs with exceptional fidelity.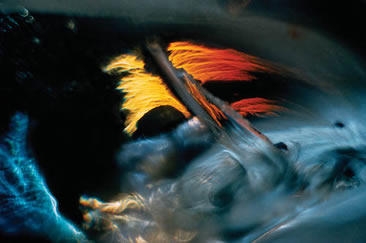 Wynn Bullock -
Color Light Abstraction 1071
(1960)
We apply a similar approach to Wynn's abstract color work. We drum scan his original Kodachrome 35mm slides and create master files that reflect the integrity of the film images. The prints we produce are stunning and have been included in major museum exhibitions around the country.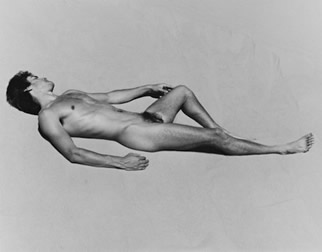 Edna Bullock -
David #5, 1984
Before it is released for sale, every estate print is personally inspected by me and is issued with a Letter of Authentication from Bullock Family Photography LLC. Each print also comes with an authorized, signed identification label affixed to the back of the mount as well as a duplicate label that may be put on the back of the artwork once it is framed.
Up until now, our estate prints have been primarily sold through our representing galleries and museum stores. Starting next year, select images will available by order through our Online Store. We'll let you know when the first group of images is ready for purchase.
---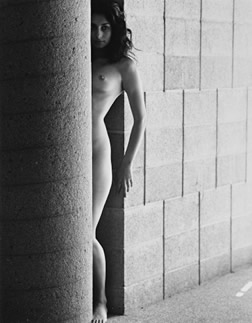 Edna Bullock -
Nude and Pillar, 1993
Also in 2019, we plan to offer a few very special opportunities for lovers of Bullock work to acquire signed original photographs from our family's personal collections.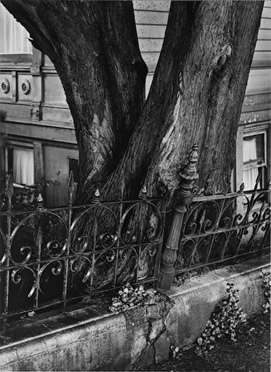 Wynn Bullock -
Fence, Pacific Street,
San Francisco, 1957
All original photographs that are available through our family have remained in our possession from the time Wynn and Edna created them to the present. Their provenance is impeccable and they continue to be handled and stored with utmost care, following strict archival practices.
Every photograph sold directly through us will be accompanied by a Letter of Provenance signed by me as managing member of our photographic estate or by another family member from whose collection the photograph comes.
Of course, inquiries about specific photographs are always welcome. If a desired image is not available from us as an original print, our estate prints may represent an attractive alternative.
---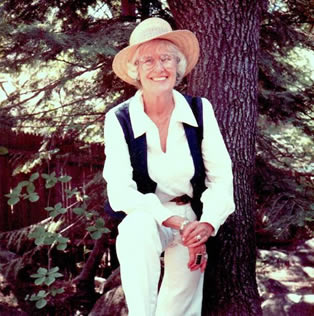 Edna
© 1984/2018 Theresa Airey
For the Monterey Museum of Art, 2018 has been the Year of the Woman. For Bullock Family Photography, it has turned out to be the Year of Edna.
It has been a joy to reminisce about her life and immerse ourselves in her wonderful imagery. Come celebrate with Lynne and me during the opening weekend (December 7 and 8) of Edna Bullock: Through a Dancer's Eye at the Monterey Museum and join me for my illustrated talk at the Museum's La Mirada Education Center on December 20. Order our new Edna Bullock calendars and notecards to enjoy her work all year long! Add Wynn to your orders and double your pleasure!!
Until next time, warmest greetings and best wishes for a joyful holiday season,

Barbara Bullock-Wilson, Managing Member
Lynne Harrington-Bullock, Member
Bullock Family Photography LLC

---
Copyright © 2018 Bullock Family Photography LLC Unless Otherwise Noted. All Rights Reserved.
Website and newsletter design and management by David Gordon